The Lucrative Business of Fake, Life-Size Dinosaurs
Mark Yarm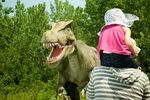 Last month, Guy Gsell had one of the happiest experiences of his life. From the 86th-floor observation deck of the Empire State Building, he dropped 50¢ into the coin-operated binoculars; trained them west toward Snake Hill, a 200-million-year-old volcanic outcrop in Secaucus, N.J.; and saw the world's largest animatronic dinosaur.
"This guy is so big, he just filled the binoculars," says Gsell, referring to the 90-foot-long, yellow-skinned herbivore called Argentinosaurus. "Even if I didn't own the dinosaur, I would think it was the coolest thing I ever saw."
A bespectacled 51-year-old in a tweed sport coat, blue jeans, and silk dinosaur tie, Gsell is the founder and executive producer of Field Station: Dinosaurs, a 20-acre outdoor educational theme park in Secaucus (tagline: "9 minutes from Manhattan, 90 million years back in time"), which officially opened to the public this year during Memorial Day weekend. While animatronic dinosaur exhibits are popular in the U.S., Field Station is the first theme park dedicated entirely to them. It's home to the record-setting Argentinosaurus, a motion-sensoring Tyrannosaurus rex that reacts to visitors, 29 other mechanized prehistoric beasts, and four human-operated dino puppets.
The attraction cost $2.5 million to get up and running—not including the cost of the life-size dinosaurs themselves, which Gsell says he's not at liberty to disclose. The reptiles—molded foam rubber with steel skeletons—were custom designed by China's Zigong Jade Bamboo Culture Development and move courtesy of KumoTek Robotics of Richardson, Tex. Erth, an Australian company, created the puppets. The exhibit, which targets kids ages 3 to 11, has partnered with the New Jersey State Museum to develop its educational programming, along with five corporate sponsors, including Lego and Crayola.
The park is modeled to resemble a fictional scientific expedition, and visitors encounter and study a few dozen dinosaurs along the way. Sound familiar? "The difference between Field Station: Dinosaurs and Jurassic Park is, of course, that my dinosaurs are guaranteed not to attack and eat anyone," Gsell says.
As the founding director of Discovery Times Square—a large exhibit space in midtown Manhattan that has recently hosted popular traveling attractions such as the King Tut show and Titanic: The Artifact Exhibition—Gsell was approached on numerous occasions by people who wanted to show their animatronic dinosaurs. A lifelong dino-enthusiast, Gsell loved the idea, but the lighthearted nature of "big rubber dinosaurs" didn't fit with what he calls Discovery's "more highbrow" mission. (Also, they didn't fit inside the space.) In November 2010, he lined up an angel investor, checked out the abandoned quarry at the base of Snake Hill (property he would lease from the county), and took a huge risk. "By Thanksgiving, I had quit my job and gone into the dinosaur business," he says.
It would appear to be a wise investment, because evidence suggests the fake-dinosaur business is booming. Walking With Dinosaurs: The Arena Spectacular, a globe-trotting $19 million stage show featuring a cast of 20 ambulatory dinosaur figures, grossed $104.1 million in worldwide box office in 2010, earning it the No. 7 spot (just beating out Paul McCartney) on concert-industry trade magazine Pollstar's yearend list of the world's top tours.
Temporary animatronic dinosaur exhibits have proved a valuable add-on for science centers, theme parks, and zoos. They average roughly a 30 percent "capture rate," meaning that nearly a third of attendees at the main park will visit the dinosaurs, according to Jennifer Chow, business development director for the British Columbia-based show, Dinosaurs Unearthed. The Detroit Zoo, for instance, reports that its 2011 Dinosauria exhibit (featuring animatronics provided by another company) drew in roughly 28 percent of its visitors at an additional cost of $4 per patron between the Memorial Day and Labor Day weekends. The zoo credits its 2011 year-on-year attendance increase—up 6 percent, to nearly 1.2 million visitors—in large part to Dinosauria. Chow says her company might charge anywhere from $300,000 to more than $500,000 for a six-month indoor exhibit housing 15 to 20 dinosaurs.
During the soft launch of Field Station: Dinosaurs this May, the grounds were teeming with smiling kids and parents. (Gsell expects the park, whose season runs until Nov. 11, to receive some 10,000 visitors a week, attendance on par with that of a medium-size zoo.) The giant lizards blink their eyes, swing their necks, and open their mouths to roar. By midday, a walkie-talkie-wielding park attendant is dispatched to stand guard over the park's largest occupant. "A bunch of kids were trying to do pull-ups on the Argentinosaurus's tail," she explains.
Later, at the park's Outback Steakhouse Amphitheater, a group of children stare in awe at a puppet T. rex in a show hosted by a loud, leather-hatted paleontologist from Australia (turns out he's really a Russian-born American puppeteer). One audience volunteer, an 11-year-old named J.R. Vega of Verona, N.J., balks when given the opportunity to put a gloved hand into the puppet's jaws.
"I knew it was a puppet, but it just felt so realistic," he says. "Even though he's very friendly, you never know. They have a tendency to eat anything."
Before it's here, it's on the Bloomberg Terminal.
LEARN MORE