pursuits
Music Boosts Workplace Productivity, Licensers Claim
By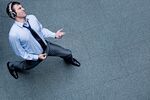 The music industry has new proof that you should listen to music while you work. In a survey commissioned by U.K. licensing organizations PPL and PRS for Music, 77 percent of surveyed businesses say playing music in the workplace increases staff morale and improves the atmosphere.
The survey, conducted by market research and survey company Vision Critical, included 1,008 small to mid-size business owners in a range of industries. The licensers' report did not mention specific jobs. Logically, though, while music can help get aerobics instructors or pole dancers going, librarians may never experience the benefits of having music played in their workplaces.
U.K. law requires businesses that play any recorded music in public (including in offices) to get licenses from both PPL and PRS for Music. This even applies to deli owners who are playing the radio, says Christine Geissmar, director of operations at PPL. Similar laws exist in the U.S. Asked if the survey was self-serving, Geissmar says, "It's not why we do this. We genuinely believe music is good to have in your everyday life."
Whether music is helpful can depend on the individuals and what's playing. The music service Songza found half of surveyed workers believe Maroon 5′s Moves Like Jagger makes them more productive. Gotye's Somebody That I Used to Know was preferred by 42 percent.
Yet a summary of recent research from Taiwan shows while some background music can increase worker satisfaction and productivity, music with lyrics had significant negative effects on concentration and attention. The study concluded that music without lyrics is preferable, as lyrics are likely to reduce worker attention and performance.
PPL plays music in its office all day, and what's on varies by floor. Typically, the first person to arrive that day sets the radio station until the afternoon, when someone usually changes it, says Claire Goldie, a spokesperson for PPL. They can also play CDs and some employees plug their own recordings. Of course, this system puts the office at risk of stereo hogs, who vie to control what's playing. And hopefully, no one on the floor has too, ahem, distinct a taste in music or cares to hear Christmas tunes all year.
Many workers do find music helpful to get through the day. "I am awake for a long period of time. I also run a lot," says Nish Mani, a 27-year-old investment banking associate at JPMorgan who likes to listen to electronica at work, including M83 and Phantogram. Unfortunately for fee organizations, he uses headphones.
Before it's here, it's on the Bloomberg Terminal.
LEARN MORE