Disney Reinvents the Sandwich—Again
By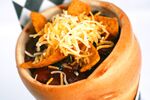 The Walt Disney Co. scored headlines from Charlotte to Canberra on June 4 when it banned junk food ads on its TV shows for kids. At the company's theme park division, however, belly-busting fare, such as churro bites with chocolate dipping sauce and cream-cheese-stuffed pretzels, are still very much on the menu.
One new dish at the company's California Adventure park in Anaheim, Calif., is the "chili cone queso," a cone-shaped bread bowl filled with chili, cheese, and tortilla chips that can be eaten while standing in line for the next ride. It also comes in bacon-scrambled egg and chicken salsa verde versions.
"Disney has a difficult balancing act," says A.J. Wolfe, executive editor and owner of the Disney Food Blog, which isn't affiliated with the company. "They're under pressure to provide nutritional food. On the other hand, they have guests who say: 'I don't want to eat healthy on vacation. I want to eat what I want to eat."'
Gary Maggetti, general manager of food and beverage at California Adventure, says the chili cones are part of an effort by the world's largest theme park operator to create dining options as special as its rides. Consumers, he says, are looking for "signature items that create unique food memories." The parks offer healthier fare as well, he says. "It's really all about choice."
The chili cones made their debut at Cars Land, part of a $1.1 billion remodel of California Adventure that Disney unveiled June 15. The attraction, which includes rides, restaurants, and stores, is based on Pixar's Cars films, which feature a motel with rooms in the form of traffic safety cones.
Designers played with the traffic cone theme, creating cone-shaped drink and popcorn containers. Food service staff point guests toward the "cone-diments" cart and ask if that "cone-pleated" their order. Visitors are already sharing park strategies, such as stopping first to pick up a Fast Pass—which saves time on long lines—for the Radiator Springs Racers ride, before grabbing a breakfast cone.
Eagle-eyed readers of the Disney Food Blog noted that the $6.99 item bears a striking resemblance to the Handwich, a now defunct 1980s Disney food experiment that aimed to reinvent the sandwich in conical form. Maggetti said the resemblance is coincidental.
Disney declined to release nutritional information for the chili cones. The parks now give fruit and milk as standard sides for kids' dishes, Maggetti says, and offer salads and other low-calorie options.
"Indulgent items, clearly we have them," he says. "We also have a lot of vegetarian, healthier items."
Before it's here, it's on the Bloomberg Terminal.
LEARN MORE