When a Kickstarter Project Threatens to Fail
by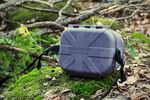 The crowd-funding site Kickstarter, as we've written, can be a wondrous tool. Entrepreneurs post an idea for a new product and then turn to the Internet community to raise capital to fund its development. According to the site's new statistics page, Kickstarter has helped 60,786 project creators raise $261 million.
When it works, the site pleases everybody. Creators find an easy path to start-up capital, investors get in on the ground floor—and in many cases, receive a finished product—and New York-based Kickstarter takes a 5 percent cut of the money raised.
Everyone's happy. Except in cases when the whole thing goes horribly awry.
Cam Crate, an effort to create a durable carrying case for a DSLR camera, represents the rare example of a Kickstarter project that has pretty much gone off the rails. Matthew Geyster is a 25-year-old inventor in Boston who has previously turned to Kickstarter to develop such products as iPad sleeves and a dual-tip stylus.
In late 2011, Geyster used a two-minute video to introduce his idea for a weatherproof camera case. His product would allow people to "take your camera wherever you go, no matter what the conditions are," he said in the video. The pitch worked. The project raised $24,601 from 370 backers and caught the attention of the tech blogs.
Then something completely ordinary happened. Geyster's plans changed. He found that his design didn't accommodate the "pick n pluck" foam insert needed to protect the camera, and a boxy new design looked much more conventional and less exciting. Meanwhile, his ship dates slipped. Backers who expected a product in the mail had to wait. "I was originally trying to ship by May but after a while realized there was no way I was going to make that," Geyster says.
Financial backers—who had laid out $75 each, or more, for the case—grew incensed. They left hundreds of comments on the Cam Case Kickstarter page, complaining about the delays and the new design and wondering if they had been defrauded. The page now looks like it's been taken over by a swarm of angry bees. "I've given Mr. Geyster one last opportunity to give me specific expectations on delivery," wrote a disgruntled backer named JMag. "Barring that, I will proceed with my appointment at the State Attorney General's Office."
Geyster says it's all been extraordinarily stressful and confesses to not having provided his backers frequent-enough updates. But he also believes some of their expectations are unrealistic. "Some people think of this as a window-shopping thing, when it's not," he says. "You are investing in someone's idea instead of going to a store and paying to get it in a month." He says most backers have been nice, though he's received several e-mails threatening litigation.
On June 21, Geyster tried to calm the furious hive with an update on his project page. "Cam Crate is a project I've been working on now for close to a year, and to pull fraud on Kickstarter and ruin my reputation is not something I am doing," he wrote. "Making products is my hobby and passion so please stick with me and see me follow through with this project."
Geyster also says if he ever does another Kickstarter project, he'll be more transparent with his investors. "People expect a little more out of you because it's a project," he said. "They want to know the back end of everything."
Before it's here, it's on the Bloomberg Terminal.
LEARN MORE