business
Luring Entrepreneurs with Free Land in Oklahoma
By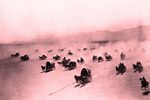 Earlier this year, David Moritz was ready to expand Society Awards, his New York City trophy design business, so he hired a real estate broker to help him find cheap warehouse space. After looking outside that city and outside Chicago, he wasn't sold on what he saw. Then Moritz got a call from his parents: His hometown of Grove, Okla., had recently doubled the size of its industrial park and was luring businesses with promises of free land for any that stayed for five years. "Who can refuse that offer?" says Moritz, who expects his new warehouse to be ready by August.
Grove's development push is rooted in centuries of government largesse. In 1889, the first federal land grants in what is now the state of Oklahoma prompted tens of thousands of people to descend in a single day, according to a Harper's Weekly account at that time. Back then, settlers could claim title to up to 160 acres of land, provided they lived on it and improved it for five years.
Grove's giveaway, while not as generous, is notable because it targets small businesses like Moritz's $4 million, 12-employee venture, rather than large companies. About 80 percent of state incentive programs give most of their funds to big businesses, according to a four-year study by Cutting Edge Capital fellow Michael Shuman; to be published in July, his report is entitled "Shortchanged: How State Economic Development Programs Favor Global Companies and Undermine Local Job Creation." Small businesses are systematically overlooked, says Shuman: "Economic developers or politicians get a lot more clout for the attraction of a big business that will make the front page of a newspaper."
Marty Follis, mayor of the 6,000-person town, says his focus on small ventures is pragmatic. "A Target or a Wal-Mart would probably swallow us up and take all our property," says Follis. "It would be damaging to our economy if they decided to leave."
Entrepreneurs who want to set up shop in Grove's 100-acre industrial park, roughly 100 miles from Tulsa, have to submit a business plan that includes how much they'll invest and how many jobs they'll create. City manager Bruce Johnson describes the application process as "no more difficult than applying for a bank loan." So far, Moritz's business is the only taker.
Grove officials see the push as a way to diversify the town, which has long relied on the aerospace industry, primarily manufacturing parts for fighter planes. "Because rural America is more likely to grow a Fortune 500 company than to recruit one," says Johnson, "we are betting on small businesses."
Before it's here, it's on the Bloomberg Terminal.
LEARN MORE