Kelley B-School Dean Is Stepping Down
Kate Abbott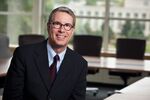 Indiana University's Kelley School of Business Dean Daniel C. Smith has been tapped to lead the university's foundation, succeeding Eugene Tempel, who will return to the Center on Philanthropy at Indiana in Bloomington.
Smith served as the Kelley School's dean for the past eight years; he is also a professor of marketing there. The Kelley School is ranked No. 19 in Bloomberg Businessweek's most recent full-time MBA ranking. It hosts approximately 10,000 undergraduate and graduate students.
The foundation's directors unanimously selected Smith to fill the post of the presidency, which he will assume on Oct. 1.
"When you look at trends in higher education today, particularly for public universities, philanthropy is going to be more important to success than ever," Smith said in an interview. "The Kelley School has had considerable success in this area, and I look forward to bringing some of that knowledge to my new job as IU Foundation president."
The IU Foundation oversees the university's endowment—valued at nearly $1.6 billion—and collaborates with many departments on all the IU campuses, as well as overseeing fundraising efforts. During his tenure as Kelley's dean, Smith helped raise $170 million. Smith recently worked with Tempel and the foundation on $60 million in grants for expanding the Kelley campus in Bloomington.
"This was done during a miserable period in our economy, and the key to that success was reframing what that building is," he said. "We didn't talk about brick and mortar; we raised funds for what the building could do for the lives of our students, for the economy of the state of Indiana, and what that would do to allow us to help businesses within the state, around the country, and around the world."
In a press release, university President Michael A. McRobbie cited Smith's "deep understanding of the complexities of fundraising in a difficult economic climate" as one reason why he was chosen for the foundation position.
Smith anticipates that he will give several guest lectures on marketing and leadership in the future. An interim dean for Kelley will be selected later this summer, and Smith will help with the transition through the end of the year.
Before it's here, it's on the Bloomberg Terminal.
LEARN MORE