Grade-Fixing Allegations Rock Baruch
by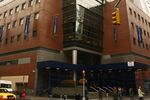 Did a high-level administrator at Baruch College's Zicklin School of Business forge professors' signatures to change the grades of failing students? That's what published sources are saying.
According to reports in the New York Post and the New York Times, the person at the center of the scandal is Chris Koutsoutis, the former administrative director of executive programs who left Zicklin in August after an internal investigation into the matter. School officials could not be reached, but in a statement, Baruch said "approximately 15 students were affected by alleged improprieties." It's unclear how many of the students have since graduated from the accelerated programs in business and finance, but the school has said it does not anticipate rescinding any of their degrees. "Each student will be given the opportunity to complete any work necessary if it is found they have not properly completed all of the requirements for their executive master's degree," the school said in its statement, which didn't name the administrator responsible or specify the nature of the improprieties.
The matter has been referred to law enforcement, and the Post is reporting that a criminal investigation is under way. Koutsoutis, who could not be reached for comment, told the Post that his decision to leave Baruch was mutual. "They did not like the way I was doing my job," the Post reported Koutsoutis as saying, "and we mutually agreed I should leave."
Meanwhile, the Zicklin dean, John Elliott, is preparing to leave Baruch for the University of Connecticut, where he is slated to start as dean of the business school in August. The announcement of Elliott's departure was made in March, seven months after Koutsoutis left. Elliott, who could not be reached for comment, has been dean at Baruch since 2002. It is unclear if Elliott's resignation was a result of the Zicklin investigation.
Baruch says it is "tightening management oversight to ensure the integrity and quality of the programs going forward."
Join the discussion on the Bloomberg Businessweek Business School Forum, visit us on Facebook, and follow @BWbschools on Twitter.
Before it's here, it's on the Bloomberg Terminal.
LEARN MORE