Subject of Notorious Hairdresser Attack Ad Speaks Out
By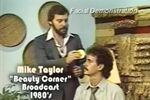 My profile of Obama campaign manager Jim Messina in the current Bloomberg Businessweek touches on an infamous television ad from the 2002 Montana Senate race that has, since the article's publication, kicked up a bit of dust. The ad was run against the Republican candidate, a state senator named Mike Taylor, who was trying to knock off the incumbent, Democratic Senator Max Baucus. Messina was running Baucus's campaign. Even by the standards of brutal attack ads, this one was pretty tough. As I described it: "Set to a porn soundtrack, it featured snippets of an old television ad for Taylor's hair salon that showed the candidate clad in a medallioned, open-shirted disco outfit, massaging lotion into another man's face, and then appearing to reach toward the man's crotch." See for yourself:
Since the piece ran, a number of media outlets, including Buzzfeed and Salon, have commented on the ad and Messina's involvement with it. But I was most curious about how Mike Taylor himself would respond given that—even 10 years later—the top Google search result for "Mike Taylor + Montana" is a YouTube clip of the ad. It took some doing, but last week I tracked down Taylor, who is a competitive sporting clay shooter and was at the European Championships in Portugal. In an e-mail, reprinted below verbatim, he unloaded both barrels at Messina:
I found out Quickly from Messina, than there was no honor in politics,as there was in the business world. Half truths and misconception will be the rule of the day for this coming campaign based on my experience. Rather than actual voting records and positions if it follows Messina's normal model of campaigns.
Mike Taylor
Before it's here, it's on the Bloomberg Terminal.
LEARN MORE