Q&A: A Teenage Venture Capitalist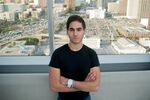 Alex Banayan is a very busy young man. He's attending the University of Southern California's Marshall School of Business and writing a book on how successful people get that way. And for the last four months he's been working as an associate with Alsop Louie Partners, an early-stage, high-tech venture capital firm in San Francisco where he sits in on partner meetings and passes along intel on young entrepreneurs. Oh yeah: He's 19. Bloomberg Businessweek reporter Francesca Di Meglio recently caught up with this SoCal overachiever. Here are edited excerpts of their conversation:
How did you get the job at the VC firm?
I used the advice I received from Peter Guber, [the former] CEO of Sony Pictures, whom I interviewed for the book. I asked him how he got his first big job. He outlined his strategy. I followed it word for word. To summarize, in a typical job interview, the interviewee speaks 80 percent of the time, and the interviewer speaks 20 percent of the time. If you can flip that ratio, by being curious and enthusiastic about the person who is interviewing you, you change the entire dynamic of the interview. Change it from "me" to "we."
The book changed my life. At the end of the interview, the founding partner asked me to come to San Francisco to interview with the rest of the partners. I went with the expectation that I'd be grabbing coffee with them. I showed up at 9:30 in the morning, and I went to one meeting after another. I thought I'd be sitting in the back and observing, but they asked for my opinion. I was thrown into the lion's den, which was unexpected. I had to stand by my opinion and against these partners who had been living the industry for longer than I've been alive. Two weeks after that I received an e-mail with the subject head 'Alex Banayan: Offer Letter.' I read it on my phone. It was one of those pinch-me moments.
What made you decide to write a book?
I began at USC in the fall of 2010, and I entered as a premed student. My whole life I thought I was going to be a doctor. I was literally that kid in third grade who wore scrubs for Halloween. Many kids my age have big ambitions and no idea how to get there. I read hundreds of books on successful people. I never found the right book. I thought, 'Why can't I write it?' I saw a need in the market.
There are 25 successful people I want to include in the book, and I have spoken with 11. I had to hustle to get to these sources because I have no connection to any of them. Much of my social capital came from the past year that I've spent working on the book. The highly successful people I've interviewed took my phone calls and sometimes invited me to their homes. They opened their world to me and showed me how to move forward.
At first, did you feel prepared for this VC job?
I never learned about venture capital to pursue it as a career. Anything I knew about it was just because I was feeding my curiosity. Doubts came. Do I know what I'm doing? I read more about it, got more comfortable with the idea, and saw transferable skills from the things I was already doing. I'm still a full-time student. The trend is for people to drop out. I take classes only twice per week and fly back to San Francisco on Fridays, so I can attend meetings on Mondays. Then I fly back to class on Tuesdays. I have two more years of school. I am definitely one to have his cake and eat it, too.
Do you plan on earning a college degree?
My personal philosophy is that a college degree is important if it's necessary for the next step in your life. If not, it's good for enhancing your life. My next step does not require a degree. I'm focused on taking classes that interest me, expanding my horizons, and having a good social life at college. Being on a college campus, I'm learning a variety of skills. I took ballroom dancing, a Native American culture class, all while taking economics. My major is business administration and my minor is science. I'm a Renaissance Scholarship candidate at the university, which is a program for those who are in two completely different fields of study.
Any chance you'll go back to premed?
I'll crush my mom and dad's dreams by saying, 'There's no chance of going back." I spent spring break, while my friends were in Cancun, scrubbed in and shadowing a surgeon. I thought, 'This is my one shot at life, do I want to spend it in the basement of a hospital or out in the world?' I have a deep respect for doctors, who are the cornerstone of society, but it's not for me.
Join the discussion on the Bloomberg Businessweek Business School Forum, visit us on Facebook, and follow @BWbschools on Twitter.