Wall Street's Raging Bull
The boxing trainer whipping bankers into shape—one insult at a time
By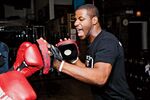 In March, seeking a tougher workout than he could get at his old gym, Joseph Guccione walked into the Church Street Boxing Gym, a severe-looking, subterranean establishment in the heart of Manhattan's Financial District. The 29-year-old wealth-management associate at Morgan Stanley Smith Barney stood waiting at the front desk when a man appeared with a challenge: "Quote me an Ol' Dirty Bastard song or I'm going to knock you the f- -k out." Guccione had just met Eric Kelly, a once promising boxer who is now the gym's most notorious trainer. "I didn't even have my membership yet, and I'm already being attacked by this guy," Guccione laughs. "I couldn't name him a song because [hip-hop] is not really my genre. But I also kind of wanted to see what he'd say if I didn't." Kelly didn't follow through on the threat. He had just secured a new client.
At banks like Guccione's, there are plenty of reasons these days to clench one's fists. "We went through hell the last couple of years," he says. "And [there are] the regulations and everything you hear about down in Washington. When you're working here, your enemy is the market in general, and all of the stress that goes along with it. You can't really fight back. When you go to the boxing club, Eric can become that enemy. You can actually fight back."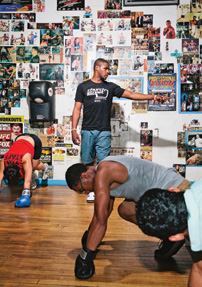 Kelly, 31, has a mouth that moves as fast as his constantly dancing feet, and curses vigorously. (A common refrain: "Work, motherf- -ker, work!") His aggressive training style is a good match for Wall Street. "When you've got a guy like Eric saying, 'You stink' and 'you've got to work harder,' it's in our personality to want to be the best," says Joseph Curro, managing director of BTIG, a fixed-income trading firm. "I think his style works because he's really passionate. Is he in your face? Yes. But he motivates you. It takes guys to the next level."
The Church Street Boxing Gym's unpolished, steel-and-concrete facility—where a $143 monthly membership provides access to all classes, including Muay Thai and wrestling—exudes a gritty authenticity. Faded boxing posters cover the walls and members use old metal lockers. Justin Blair, the gym's founder and owner, has a theory about why his trainers, including Kelly, have been such a good fit for corporate-world customers. "[Some] are looking to give up control," he says. "And [they're] looking to find a relief in being told what to do, rather than directing others—and having to handle large sums of money."
For his part, Kelly relishes the opportunity to insult his wealthy patrons. "I love it," he says. "They grow to love me, because I guess they can see through this image I have at the gym—this maniac image. They realize it's all in fun. This is release therapy. If you want to punch your boss, there he is," he says, gesturing at a punching bag. "Go beat his ass."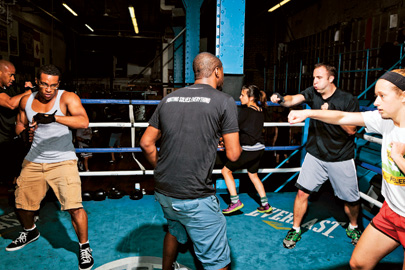 Chris Roan, who works for the advertising agency Mother New York, and fellow Church Street regular Ramin Hedayati, a producer for The Daily Show with Jon Stewart, recently turned Kelly into a viral video star. Shot for the website Animal New York, Boxing Lessons with Eric Kelly shows the trainer gleefully hurling epithets at his uncoordinated clients as they take swings at bags and mitts. Kelly calls his trainees "miscreants" and "pieces of s- -t." At one point Kelly expresses disbelief that an older boxer is "on this side of the dirt." And he mocks Roan—who appears in the video wearing a pair of thigh-baring shorts and high socks—for hosting a "nerd convention" on his body. "To his credit," says Roan, "I've never heard the same insult twice." Roan traces the video's popularity to the clear social dynamic at play. "There's this idea that Wall Street is untouchable," he says. "Eric does interact with them, and often in a position in which they're very vulnerable."
Born in Florida and raised in the Bedford-Stuyvesant neighborhood of Brooklyn, Kelly showed an affinity for histrionics at a young age as a professional wrestling buff. "I used to put deodorant on my face, strings on my arms, and I was the Ultimate Warrior," he says. "Everybody thought I was on LSD." To keep his son off the streets, Kelly's father brought him to the Bed-Stuy Boxing Center when he was 13. There he studied under Mark Breland, a U.S. gold medalist from the 1984 Olympics. In 1998, as a 16-year-old middleweight, Kelly became the No. 1 ranked junior amateur boxer in the U.S., and was ranked fourth in the world.
What would later define his training approach—his merciless fusillade of barbs—also hastened the end of his career. In 2003, Kelly got into a fight with three men at a Detroit pool hall. "I was having fun and talking s- -t," he says. "I guess I pissed some of them off." One of them struck Kelly on the eye with a pool cue. The resulting injury required multiple surgeries and damaged the nerve-endings and the muscles of his eyelid. While the episode didn't permanently stop him from fighting, Kelly says he was then swept up by "women and partying," and lost his competitive fire.
After bouncing around temporary jobs in Florida and getting divorced, he returned to New York in 2009 to take a job at the Church Street Boxing Gym, where he instructs about 10 or 15 clients a day, including celebrities such as Michael Pitt, of HBO's Boardwalk Empire. Following the success of the online video, Kelly hired a manager and is currently being courted by reality television producers. "When people come in off the street, they're like, 'Who is this guy? Does he work here?'" says Kelly. "I get more complaints than you've got fingers and toes. But at the end of the day, this is who I am."
And his clients train at their own risk. During one recent evening class, he pushed a group of would-be pugilists including Guccione to their limit. After a serious boxing workout, Kelly coached them through a cycle of about seven different conditioning exercises, including crunches, push-ups, and one drill requiring that a person push a heavy bag from one end of the gym to the other like a "lawn mower." "They were so brutal, it was insane," said Guccione. "Then he wanted us to do it again." But the clients, bedraggled and gasping for air, started removing their gear. "He was calling us parts of the female anatomy. We were just looking at each other like, 'This is crazy.'" When the boxers returned to the gym the next day, Kelly had completely forgotten the incident. "We're not trying to be professional boxers here," said Guccione. "We have day jobs."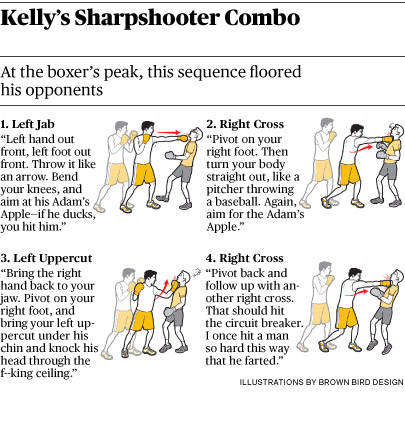 Before it's here, it's on the Bloomberg Terminal.
LEARN MORE