business
Jamie Dimon's Risky Business
By , , , and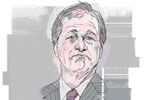 JPMorgan Chase Chief Executive Officer Jamie Dimon enjoys a reputation as a risk-averse manager who conducts exhaustive reviews of operations in every corner of the bank. Not always, it turns out. Long before traders there racked up at least $2 billion in losses, executives at JPMorgan voiced concern over activities of the bank's chief investment office (CIO). Dimon repeatedly declined to subject the office to additional scrutiny and control.
Dimon treated the CIO differently from other JPMorgan departments, exempting it from the rigorous scrutiny he applied to risk management in the investment bank, according to two people who have worked at the highest executive levels of the firm and have direct knowledge of the matter. When some of his most senior advisers, including the heads of the investment bank, raised concerns about the lack of transparency and quality of internal controls in the CIO, Dimon brushed them off, says one of the people, who asked not to be identified because the discussions were private.
Before the Senate Banking Committee on June 13, Dimon expressed regret over losses in the bank's chief investment office, saying that its trading strategy was "poorly conceived and vetted" by senior managers who were "in transition" and not paying adequate attention. Dimon declined to comment for this article. His handling of the CIO "suggests that these institutions are too big to manage because even the bank that was considered to be the best-managed turns out to have had a significant glitch," says Gary Stern, a former president and CEO of the Federal Reserve Bank of Minneapolis.
It has been an expensive glitch, too: As of June 13, JPMorgan shareholders had seen almost $39 billion of market value wiped out since April 5, when Bloomberg News first reported the CIO's trades.
Dimon created the chief investment office in 2005 to invest deposits the bank hadn't loaned out and to hedge against risks. The CIO's portfolio ballooned fivefold over the past four years, to $375 billion, as deposits flooded into JPMorgan. The unit's risk managers and systems were ill-equipped to handle the size and complexity of the investments it made, according to three former CIO executives. As Dimon encouraged the CIO to ramp up risk in search of profits, limits on positions were raised and sometimes ignored, they say. The CEO also rebuffed repeated warnings about the need to reduce those bets.
Dimon's push to take greater risks in the chief investment office began not long after JPMorgan completed its acquisition of Bank One and he became CEO. He elevated Ina R. Drew from treasurer to chief investment officer, had her report directly to him, and encouraged her department, which had invested mostly in government-backed securities, to seek profit by speculating on higher-yielding assets such as credit derivatives, according to more than a half-dozen former executives. Dimon sometimes suggested investments, such as bets on large economic trends or an asset class, one current executive says.
Meanwhile, the position of chief risk officer inside the CIO was a revolving door, with at least five executives holding the job in six years, according to people familiar with the matter. None of the three people on the board's risk-policy committee has worked as a banker or had any experience on Wall Street in the past 25 years. "We all bought into the idea that Jamie was the best manager in the world," says Paul Miller, a former examiner for the Federal Reserve Board of Philadelphia and analyst at FBR Capital Markets. "For a guy who is known for risk management, he certainly didn't put in place a top-tier risk-management system or board."
David Olson, a former head of credit trading for the CIO, recalls that when he joined the bank in 2006 two executives told him, "We want to ramp up the ability to generate profit for the firm. This is Jamie's new vision for the company." The same year Olson joined the CIO, Drew hired Achilles Macris to oversee trading in London with a mandate sanctioned by Dimon to generate greater profits, three former employees say.
When JPMorgan acquired Bear Stearns and Washington Mutual at fire-sale prices and with government support in 2008, the money being invested by the CIO more than doubled, to $166.7 billion, from $76.2 billion the previous year. The corporate division, which includes the CIO, posted net income of $3.7 billion in 2009. That number understates the CIO's real profitability because some of its income flowed to other departments, such as the retail bank. Macris's team in London, running a portfolio of as much as $200 billion in trades, had a profit of $5 billion in 2010 alone, more than a quarter of JPMorgan's net income that year, one former executive says. "The issue that is still being underestimated is how much of their core earnings power is going to be reduced by restructuring and reining in that CIO office," Charles Peabody, an analyst at Portales Partners, said on June 4.
In addition to making speculative bets, the CIO took on a bigger role after the financial crisis, hedging JPMorgan's potential losses on loans and corporate bonds by taking positions in credit derivatives. Questions about CIO oversight arose in the months after the 2008 crisis, when top JPMorgan executives heard what CIO traders based in London were doing and raised the matter with Dimon, according to the two executives familiar with the conversations.
William Winters and Steven Black, co-heads of JPMorgan's investment bank at the time, were among those who demanded more information about the CIO's changing risk profile, according to people who participated in or witnessed the conversations. These people also say that James "Jes" Staley, who ran asset management at the time and now heads the investment bank, and John Hogan, then the investment bank's chief risk officer, questioned why risk controls inside the CIO weren't as extensive or robust as in other departments.
"That's absurd," says Kristin Lemkau, a spokeswoman for the bank. She says Winters, Black, and Staley never complained about a specific risk in the CIO's office. Hogan said through a spokeswoman that he never raised CIO risk practices with Dimon while he was chief risk officer of the investment bank. In his testimony Dimon said, "the CIO unit had done so well for so long that I think it was a little bit of complacency about what was taking place there."
Winters and Black asked that CIO risks be disclosed in greater detail at review meetings and that other members of the bank's operating committee be involved in assessing them, a former bank official says. Dimon's response, a former executive says, was that the situation was under control. It was an answer he would give again and again as risks in the CIO grew to perilous levels. In 2009, Dimon fired Winters and relieved Black of operating responsibility.
Peter Weiland, who started supervising risk at the CIO in 2008, immediately saw trouble in the division's risk-management system, say two former executives who worked with him. Weiland became concerned that Bruno Iksil, a trader in Macris's office later known as "the London whale," had amassed a complex and illiquid position, according to two former executives. Weiland, who declined to comment, warned Macris and Drew about the trades on several occasions in 2010, the former executives say. Unable to unwind Iksil's bets, the bank tried to hedge them earlier this year with other trades, which exacerbated the losses.
Dimon won praise as he steered JPMorgan through the 2008 financial crisis without a single quarterly loss. "In the wake of the financial crisis, he came to represent this notion that, if well managed, a bank didn't need to be regulated all that heavily," says Rakesh Khurana, a management professor at Harvard Business School and author of Searching for a Corporate Savior: The Irrational Quest for Charismatic CEOs. "That may have contributed to some structural deficiencies in governance and risk management. It probably created the benefit of the doubt to his direction in the boardroom and probably a lot of deference to his authority in day-to-day operations."
Along with puncturing his reputation, Dimon's lapses may bolster those who would enforce stricter regulation of banks, including advocates of the Volcker Rule, which would bar most proprietary trading by deposit-taking institutions—a proposal the JPMorgan CEO has fought vociferously. "The risk management is as amateurish as you can get on Wall Street," says Nassim Taleb, a professor of risk engineering at New York University and author of The Black Swan: The Impact of the Highly Improbable. "JPMorgan is vastly more fragile today than it was five years ago, and the system is more fragile today with more too-big-to-fail banks with proven incompetence at their management level."
Before it's here, it's on the Bloomberg Terminal.
LEARN MORE