Hey, Comcast, the Rich Aren't That Different
Residents of Chappaquiddick spar over mandated Internet service
By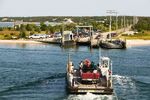 When Comcast closed on its acquisition of NBCUniversal last year, U.S. regulators stipulated that the largest U.S. cable company had to build out its Internet network to reach underserved Americans. A group of residents on Chappaquiddick—a remote, picturesque island 527 feet off the coast of Martha's Vineyard that made headlines after Senator Ted Kennedy's fateful 1969 car crash—think they fit the bill.
They're demanding that Comcast provide them with high-speed Internet. The company has so far refused, saying cabling the island will cost $1.5 million without generating much future revenue. That's because only about 16 percent of the roughly 500 households on the island are full-time residents, the company says. The rest are summer dwellers, including celebrities such as actress Meg Ryan and former NBC Sports chief Dick Ebersol, who may not sign up for service.
These probably aren't the kinds of people the federal government had in mind when it demanded that Comcast expand its broadband network by at least 1,500 miles per year through 2014 and extend its broadband service to roughly 400,000 additional homes nationwide. The average annual household income in Edgartown, Mass., the Martha's Vineyard jurisdiction that includes Chappaquiddick, is $93,684, according to U.S. Census Bureau data. More than a third of households have six-figure incomes.
Not everyone on the island is a wealthy vacationer. Dennis Goldin is a 61-year-old physician whose daily commute to work in Quincy, Mass., takes 3½ hours and includes three different cars, two buses, a ferry, and a small boat that he often rows to Martha's Vineyard proper at around 4:30 a.m. Goldin and others have persuaded Martha's Vineyard to hold off on signing a new contract with Comcast until the cable giant agrees to service Chappy. "They think we're just an island of rich people, but there are full-timers here that need broadband to live," he says.
The Internet access flap is irksome to many Chappy residents, because they pay taxes to Edgartown, which sits on the Vineyard proper and is cabled for broadband. But when Adelphia Communications signed a contract with Martha's Vineyard about 11 years ago, the now-defunct cable company declined to include Chappaquiddick in its cable plans. Residents were stuck with slower Internet service from DSL or satellite-TV operators. Now that the contract has expired and Comcast, which bought Adelphia with Time Warner in 2005, services the island, residents figure this is Chappy's chance to move out of the digital Dark Ages.
"Chappaquiddick is an integral part of Edgartown and clearly should be served by Comcast in the same way as it serves any other Edgartown resident," says Charles Schwartz, 67, who has owned a house in Edgartown for six years. "To exclude it would be tantamount to cherry-picking customers that would provide the highest net return, and that would be deplorable."
Comcast spokeswoman Doreen Vigue says the company has spent months evaluating how to extend its network to the island and has presented four separate options to the town. "We continue to be actively engaged in discussions," she says. But Comcast wants to share the buildout costs with locals. Its initial offer was for each Chappy household to pay a one-time fee of up to $6,000. That's about $3 million total for the island's 500 homes—twice what Comcast now says it would cost to run the cables. Says Goldin: "They're trying to gouge us."
Some residents are particularly miffed because Comcast Chief Executive Officer Brian Roberts has a summer home on Martha's Vineyard, in the nearby town of West Tisbury—which has speedy broadband service. Roberts declined to comment for this story and hasn't said anything publicly on the dispute, which 75-year-old Bob O'Rourke, a neighbor of Goldin's, says has become "a true David-vs.-Goliath type of thing."
Before it's here, it's on the Bloomberg Terminal.
LEARN MORE