British Retailers Turn Waste Into Power
U.K. retailers are shipping their food waste to bioenergy plants
By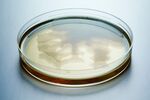 John Montagu, the Fourth Earl of Sandwich, likely never had an inkling that his culinary invention would revolutionize lunchtime. And it's certain that he never dreamed that a cheddar ploughmans or an egg and cress would one day serve to heat British homes in wintertime.
Tesco, Britain's biggest supermarket chain, along with Marks & Spencer Group, John Lewis Partnership's Waitrose, Wal-Mart's Asda unit, and J Sainsbury, are carting off chicken fat, fish heads, and leftover sandwiches to biogas plants for conversion into electricity. For many British retailers, the new waste management dovetails with environmental aims. M&S announced this month that it had achieved its five-year objective of becoming "carbon neutral"—a goal many of its competitors share.
There's also a financial incentive behind reducing the amount of waste that winds up in dumps: Britain levies a landfill tax of £64 ($98) per ton, which is set to increase by £8 a year. Transporting garbage to plants where it can be converted into biogas "is a no-brainer for the supermarkets," says Niamh McSherry, a food retail analyst at Berenberg Bank, adding that "landfill charges and energy costs are only getting more expensive."
Food waste can be turned into fuel using a process called anaerobic digestion. The refuse is mixed with warm water and pumped into airtight tanks where it is consumed by bacteria. The byproduct is a methane-rich gas that can be refined for various uses, including powering electricity plants. Bioenergy plants could supply 8 percent to 11 percent of the U.K.'s power demand within eight years, the government forecasts. Britain, which is seeking to get 15 percent of its energy from clean sources by 2020, up from 3.3 percent now, offers various subsidies for waste-to-power projects.
Mandy Keepax, Marks & Spencer's head of waste, is passionate about recycling. At home she uses a composting bin to break down table scraps and residue from her garden, and dutifully separates out her plastics, paper, and glass. Yet she admits she was a bit taken aback when two years ago her employer told her she needed to ensure that none of the 80,000 tons of waste it produces each year found its way to a garbage dump. "When I was given the challenge to achieve zero waste to landfill, it was something I was anxious about," says Keepax.
Marks & Spencer now transports 89 percent of food waste from its 511 stores to biogas facilities. Savings from these and other environmentally conscious activities totaled more than £105 million in the 12 months through April, the company says.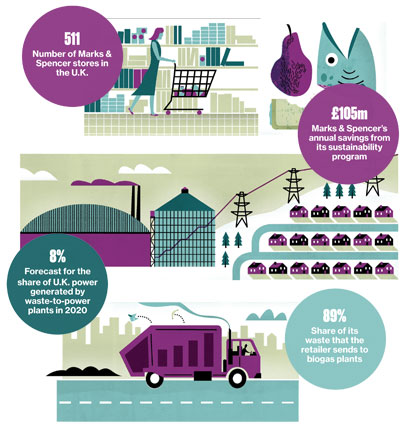 Wal-Mart's Asda sends anything from old lamb chops to stale bread to bioenergy sites, while Tesco recycles 2,000 metric tons of used cooking oil and chicken fat from rotisseries into biofuel. Tesco estimates low-carbon and power-saving technologies shave £200 million from its energy bills every year. "A modern brand is a sustainable brand," says Lucy Neville-Rolfe, Tesco's executive director for corporate and legal affairs.
Sainsbury has gone a step further. In February, the U.K's No. 3 supermarket chain announced an investment in Tamar Energy, which plans to build 40 plants within five years that will use waste to generate electricity. The business is backed by financier Jacob Rothschild and the Duchy of Cornwall estate held by Prince Charles, the heir to the British throne. About 2,500 homes are currently powered by Sainsbury's unsold meals and rotting vegetables, the company says.
"Reducing energy consumption and sustainably managing waste is just good business," says Bob Gordon, head of environment at the British Retail Consortium. "U.K. retailers are saving literally hundreds of millions of pounds per year through their sustainability agendas."