Apple and Google Fight to Be Top Mapping App
Google Maps will no longer be the default on iPhones and iPads
By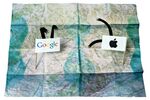 Just a few years and several tech paradigms ago, Google and Apple were happy allies, and nothing demonstrated that better than their cooperation on digital maps. Since its 2007 launch, Apple's iPhone has featured Google's mapping software on its home screen, allowing iPhone owners to quickly find directions and see nearby terrain. Those days are over. On June 11 at the annual geek hajj known as Apple's Worldwide Developers Conference, Apple Senior Vice President Scott Forstall announced a long-expected divorce: Google Maps has been ousted as a default app on the iPhone and iPad in favor of Apple's home-cooked alternative.
The relationship has been challenged ever since Google's Android operating system became the primary obstacle to the iPhone's total planetary dominance. Maps are among the most popular apps on smartphones, and the location data they generate is essential for understanding and interacting with users—allowing companies to, say, send them ads for the nearest Starbucks. Apple found itself uncomfortably dependent on a chief rival.
By 2008 the relationship hit new lows. Apple's senior vice president for marketing, Phil Schiller, and Google's senior vice president for engineering, Vic Gundotra, had fierce arguments that summer over which company owned the data coming from the iPhone's Google Maps app, according to several people familiar with the incidents who were not authorized to speak on the record. Google continued investing in its own mapping technology, introducing features such as spoken, turn-by-turn directions, but that neat trick remained exclusive to Android—Apple either couldn't or wouldn't reach an agreement with Google to bring it to the iPhone. Apple "clearly didn't want to be at the mercy of Google," says Greg Sterling, a senior analyst at Opus Research. Both companies declined to comment.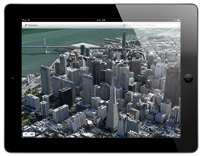 Apple's new maps for the iPhone look remarkably like Google's. There's a satellite view similar to the one in Google Earth, real-time data on traffic, and voice navigation—an announcement met with thunderous applause by the several thousand Apple faithful at WWDC. After the event, Apple said its app's data comes from the Dutch company TomTom (which makes personal navigation systems that are steadily losing market share to all-purpose devices such as the iPhone). Google will still make its mapping app available through Apple's App Store, but it won't be pre-installed on any new devices.
Google saw this coming. The search giant held its own mapping event on June 6 to announce a few new features. Google Maps will soon be available offline on Android phones, which means users can download portions of the cities they're navigating to their phones so they won't need a mobile connection to keep from getting lost. The company also announced an upgrade to the flyover feature of Google Earth. In place of the spare 3D images of the past, Google will soon introduce a crisp view that "really does create the illusion that you are flying over the city, almost as if you were in your own personal helicopter," said Peter Birch, a product manager for Google Earth.
Google touted its fleet of airplanes, owned and operated by contractors, which fly in grid patterns over high-density areas taking photos of cities at varying angles. The company then uses technology that connects all those images into 3D models. Google also announced it was pushing into less-developed countries to photograph streets and map areas that are still largely blank. It showed off new camera-equipped backpacks and snowmobiles, which will help bring the eyes of its Street View service into rainforests and mountainous terrain.
Apple clearly has the money and competitive drive to match Google's substantial investment. However this battle goes, as long these two keep butting heads, we'll never have to ask for directions.
Before it's here, it's on the Bloomberg Terminal.
LEARN MORE