A Content Cubbyhole for Avid Web Surfers
A Content Cubbyhole for Avid Web Surfers
by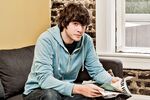 Nate Weiner, 28, has always had varied interests: photography, animation, programming, criminal detective work. While browsing the Web, he'd often e-mail himself articles and videos about his favorite topics with plans to catch up later. The links inevitably got lost in his overflowing in-box. Frustrated one night in 2007, he built Read It Later, a smartphone app for storing and viewing all the content that gets shunted aside during the course of a busy day. "When I get a bug for something, I have to get it done," he says.
Since being relaunched in April under the new name Pocket, the app—which is available on iOS, Android, and Kindle devices—has had 2 million downloads, bringing its total to more than 5 million registered users. To save an article or video, users install a button or a bookmark in their Web browser and click it whenever they come across something they want to ingest later. Pocket has also integrated with more than 300 mobile apps, so fans of news readers such as Flipboard or Pulse can send an article to Pocket directly. Weiner's app displays saved content in a layout with adjustable fonts and colors and stores them offline, enabling users to read clips even when they have no cell reception. Users save about 1 million items a day.
While other apps offer similar features, Pocket can save a wider variety of media, will soon be available on many mobile platforms, and costs nothing. Weiner and his team of seven are also developing new features, such as ways to easily categorize clippings and for users to directly send content to each other's Pockets.
Weiner's company is still experimenting with business models, including a monthly subscription. Last summer the startup raised $2.5 million from investors including Foundation Capital. "Nate is just one of those very unusual and very special entrepreneurs," says Steve Vassallo, a general partner at the venture capital firm. "He has a very deep and intuitive sense for the product and the market opportunity. He feels it in his bones."
Weiner and his twin brother, Max (who joined Pocket in 2010), taught themselves to program at 16. Their stepfather, a real estate agent, helped them get jobs building websites for condo developers in their hometown of Milwaukee. "Max was the right brain, and I was the left brain," says Weiner, who prefers coding to design. "We worked really well as a team." During his two years at University of Wisconsin-Eau Claire, Nate studied marketing and criminal justice before dropping out after his sophomore year.
He built the initial version of Pocket in August 2007 while working as a Web developer in Minneapolis. In 2010 he relocated to San Francisco. Weiner says he's fielded several acquisition offers over the last year and turned them all down. "Nobody cared about this stuff as much as I did, or didn't have the vision," he says.
Before it's here, it's on the Bloomberg Terminal.
LEARN MORE