Nike Air Yeezy 2 Auction on EBay Closes for $90,300
By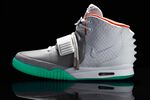 A pair of preordered Nike Air Yeezy 2 sneakers, designed by Kanye West, sold on EBay for $90,300 on June 6.
It's an exorbitantly high offer for a pair of shoes that will go on sale on June 9 for $245, even if only 3,000 to 5,000 pairs will be released. The sneakers Wilt Chamberlain wore when he set the NBA's single-game scoring record fetched a mere $55,000 at a Sotheby's auction in 2000, Forbes reported.
By publication time, other auctions for Air Yeezy 2 sneakers on EBay had closed for no more than $6,000, raising questions about why anyone would offer $90,300.
The Air Yeezy 2 seller, who goes by "pinoyako4life," did not respond to a request for an interview by publication time.
A sneaker collector and reseller in New York, who asked not to be named in order to maintain his relationship with his supplier, says he doubts the $90,300 payment will actually be made. The collector—who once sold his car to pay for a pair of Nike sneakers—says sellers might place a product on EBay before they have them at hand, also known as a presale, to start the bidding. They then try to obtain a pair for less than the winning bid or else return the money to the buyer. That may seem dodgy, but sometimes it's the bids that are bogus. He says resellers might also try to hype up the release of certain sneakers.
"There has long been a robust market on EBay for sneakerheads who collect limited edition or one-of-a-kind sneakers," says Amanda Miller, a spokesperson for EBay. She says bidding for the item was robust and the company had not yet received any suspicious reports about the auction. Miller adds that the marketplace sets the value for goods unknown—for instance, an auction in 2011 featuring limited edition Nike Mag sneakers raised $4.7 million for the Michael J. Fox Foundation.
It's not the first time sneaker bids have gone off the charts. In February an EBay auction for a pair of Nike Foamposite Galaxy closed at $99,100. The release of this shoe sparked a riot among buyers in a Florida mall.
"Pinoyako4life" wrote in the description of the Air Yeezy 2 (in all caps): "THIS IS A ~~PREORDER~~FOR ONE PAIR OF 100% AUTHENTIC NIKE AIR YEEZY 2s IN THE BLACK AND PINK COLORWAY!! SIZES 8-12 ONLY PICK ONE!"
It continues: "THEY ARE 10000000% AUTHENTIC NIKE PRODUCTS CHECK MY FEEDBACK I AM LEGIT!!"
Then the seller assures those still feeling skeptical, "I WILL SHIP THESE ONCE I HAVE IN HAND. WILL SHIP THE SECOND WEEK OF JUNE! PLEASE DO NOT ASK ABOUT MY SOURCE."
The auction opened on May 30 for $0.99, according to the bid history. By June 1, bids had risen to $3,800.99. The numbers exploded on June 5, when a buyer topped a $10,200 offer with a $20,000 bid at 5:10 p.m. West Coast time. Over the next few minutes, the bids skyrocketed. By 5:15 p.m., bidding had reached $80,000. By the time the auction closed at $90,300 at 1:40 p.m. on June 6, a total 38 bidders had placed 84 bids. The winner is not very active on EBay, based on the profile (though people can have more than one account).
If a bid is bogus, sellers usually re-list the item, says Miller, and it is their choice whether to report it to EBay.
Before it's here, it's on the Bloomberg Terminal.
LEARN MORE