B-School Photo of the Week: Wharton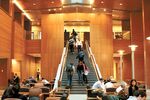 The Patty and Jay H. Baker Forum in Jon M. Huntsman Hall at the University of Pennsylvania's Wharton School. The 4,000-square-foot Forum is the largest single space in the building and serves as the center of undergraduate life at Wharton. The two-story gathering space is large enough to accommodate an entire undergraduate class and creates a perfect setting for the freshman Dean's Meeting, Family Weekend events, graduation celebrations, award ceremonies, and other school gatherings. It's also a informal meeting place for students and has undergraduate computer labs, group study spaces, and classrooms nearby.
Before it's here, it's on the Bloomberg Terminal.
LEARN MORE