Office Upgrade: The Magnetic Wall Organizer
By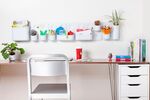 What it is: a set of rearrangable magnetic plates and pods for the wall
Cost: $175 for six pods and six plates
The personal workspace has been getting smaller and smaller, especially in urban markets. Doors have disappeared, walls have fallen, and even cubicles are a luxury. To address the clutter that is finding itself confined to an ever more restricted area, Oakland (Calif.)-based Enlisted Design developed Urbio, a stylish brand of metal plates and magnetic pods in various shapes and sizes for keeping things tidy. The vessels can be reconfigured based on the user's changing needs. They can be used, for example, to sort mail or business cards. The magnetic vessels will cling to other surfaces too, such as metal poles or railings. Urbio co-founder Jared Aller says the company plans to introduce magnetic office supplies such as staplers, pencil sharpeners, and white boards that will work with the plates.
Urbio's not just for sorting desk detritus either—the vessels can also be used for plants, a nice addition to any office.
"Urbio can be large or small, allowing offices to make a statement piece in a lobby for everyone to share, or to break it up and have a single wall plate with a pot or two in every cubicle," says Aller. "The magnetic system allows each user to configure Urbio how they want, so employees can personalize their space."
The powder-coated steel plates and the polypropylene vessels are available on myurbio.com. Both are recyclable.
Before it's here, it's on the Bloomberg Terminal.
LEARN MORE