Votizen, for Viewing Your Friends' Voting Records
A social media site allows users to search contacts' voting records
By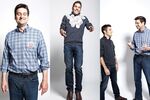 In 2009, David Binetti, a Web entrepreneur who helped build the federal government's Web portal USA.gov, began collecting the voter registration records of 200 million Americans. The data—from several hundred state, county, and city registrars—made for an unholy collection of obsolete file formats, from floppy disks to an 18-inch roll of magnetic tape made for a 1951 UNIVAC mainframe. Binetti and his staff spent two years loading all of it into a searchable, sortable database that's 1,000 gigabytes large. That was the first massive step in building Votizen, a website with the not-so-modest goal of coining "a new political currency based on voter-to-voter connections."
Launched last September, the website lets users see which of their contacts from Facebook, Twitter, and LinkedIn are registered to vote, where, and with which party, as well as when they've voted in the past. So a Mitt Romney supporter who discovers that his old high school pals are now registered in a swing state could send them a plug for the candidate with the hope that like-minded contacts will do the same with their friends. And so on and so forth until Election Day, when every Votizen presumably goes to the polls, creating, as Binetti describes it, "a world where the size of your network matters a lot more than the size of your checkbook."
It's not the first tech venture to try leveraging the Web for grassroots organizing. "Unfortunately, there's a 10-, 15-year history of Internet startups with mission statements about public service, and when it comes down to a year or two after burning through their venture capital, what they really have of value are the Aeron chairs they bought and the database," says Philip N. Howard, who wrote New Media Campaigns and the Managed Citizen.
Like plenty of tech startups before it, Votizen hasn't brought in a cent during its first months online. The site started with $2.25 million in funding from Napster co-founder and former Facebook President Sean Parker, the prolific angel investor Ron Conway, and others in Silicon Valley. But Binetti wants to begin selling access to Votizen users this year. The plan is to charge campaigns and interest groups for introductions to supporters with friends in the right places—people Votizen knows have lots of connections to voters where a candidate needs them most.
Campaigns already recruit supporters and volunteers through social networks. For candidates to justify another micro-targeting expense, Votizen will have to recruit a critical mass of the most well-connected voters. So far, it claims 40,000 users who have tried to nudge at least some of their 1.3 million voting friends. Binetti says he hasn't settled on the fees he plans to charge for access to them. The site's survival will come down to "how much does it cost them to recruit the supporter and how much can they mark that up when they sell the supporter to the candidate," says John Aristotle Phillips, co-founder of Aristotle, a political data mining shop that works for Republicans and Democrats.
Shaun Dakin, founder of the National Political Do Not Contact Registry, says it'll be tough to woo influential voters from beyond the small slice of Americans who plaster their cars with bumper stickers. "You're talking about some of the most private actions in a democracy," says Dakin. "The vast majority of Americans just aren't all that open."
Yet those reluctant to share are the ones campaigns need the most, says Ken Strasma, whose consultancy Strategic Telemetry did micro-targeting for President Obama's 2008 campaign. "People are in the habit of tuning out messages from their political friends," he says.
Binetti is betting Votizen will attract more than political junkies. "There's just a whole bunch of influence and political power that you may not even know you have."
BOTTOM LINE -
The bottom line: Votizen hopes to sell campaigns and interest groups access to its social network of voters, which is now 40,000 strong and growing.
Before it's here, it's on the Bloomberg Terminal.
LEARN MORE