pursuits
The Subprime Money Behind a Winning Horse
The owner of I'll Have Another tangles with state regulators
By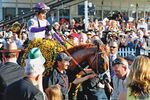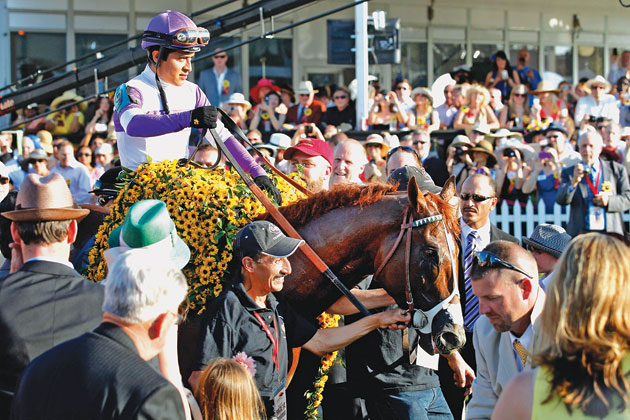 When his colt I'll Have Another charged from behind to win the Preakness Stakes on May 19, J. Paul Reddam joined an exclusive club of thoroughbred owners who've been one race short of the Triple Crown. Not far from the Baltimore track, Maryland state regulators were probing the consumer loan business that helps fund Reddam's wildly successful investment in horses.
Reddam, 56, a former philosophy professor, made his fortune with a subprime mortgage firm, DiTech Funding, which he sold to General Motors in 1999 for more than $240 million. He is now owner and chief executive officer of CashCall, which makes mortgage and short-term loans. The Anaheim (Calif.)-based company has tangled with three states over alleged violations of consumer protection laws.
West Virginia officials, among the company's most persistent critics, allege in a civil lawsuit that CashCall violated state usury rules by using a front company to charge annual interest as high as 99 percent and engaging in abusive debt-collection practices. "CashCall created a business model intended to fly under the protective radar of West Virginia laws," Attorney General Darrell McGraw said in a 2008 press release when the suit was filed. The case went to trial in October, and the judge has yet to render a verdict. CashCall said in legal filings that its business in West Virginia was legal under federal law and is making a similar argument in Maryland.
CashCall paid $1 million in August 2009, without admitting or denying wrongdoing, to settle claims by California that its practices included making excessive calls to borrowers demanding repayment at work and at odd hours. Maryland, which last year proposed banning the lender from offering mortgages because of a licensing violation, also brought a 2009 action against CashCall that resulted in a $5.7 million fine from an administrative judge. The fine is on hold pending an appeal in an unrelated case that involves a similar issue of law.
Reddam, whose racing team is preparing I'll Have Another for the final leg of the Triple Crown, the Belmont Stakes in New York on June 9, has CashCall emblazoned on his jockey's silks. He blames the firm's legal problems on the confusing patchwork of state regulations. "Everybody has a different idea of what should and should not be done, and what's OK in each state," he says.
Reddam worked for several mortgage lenders before founding DiTech in 1995. He sold DiTech to GMAC Mortgage, a subsidiary of General Motors that became Ally Financial after its parent company's bankruptcy in 2009. DiTech became part of Ally subsidiary Residential Capital, which because of subprime mortgage losses was "a millstone around the company's neck," Ally CEO Michael Carpenter said in 2010. The subsidiary filed for bankruptcy on May 14, days before the Preakness.
Like DiTech, CashCall advertises widely to drive traffic to its website. An early pitchman was the late Gary Coleman, who starred in the 1980s TV series Diff'rent Strokes. CashCall is on pace to originate $9 billion in mortgages this year, Reddam says. Besides mortgages, the firm makes unsecured loans in amounts of as much as $25,000, according to its website. That part of the business amounted to about $180 million in loans last year, he says.
In an example of a loan on its website, CashCall says it could offer a borrower $2,525 to be paid back in 47 installments at an annual interest rate of 184 percent. The high demand for the loans, Reddam says, demonstrates that his businesses are filling an important gap in consumer finance. "The banking industry is missing this entirely," he says. "There is a tremendous need for people to borrow a few thousand dollars to help them over whatever crisis they are having, and the banks are not serving that need, and they should."
Before it's here, it's on the Bloomberg Terminal.
LEARN MORE