Saatchi & Saatchi's Bangkok Office
Saatchi & Saatchi's transit-themed space
by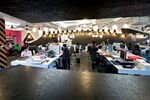 When designing the new offices for its Bangkok branch, ad giant Saatchi & Saatchi catered to local tastes. The walls and floors of the agency's Thai outpost, which boasts such clients as Kraft Foods and Procter & Gamble, are painted in loud hues such as lime green and bubble gum pink. "In Thailand we are very colorful," says architect Pitupong Chaowakul, who originally wanted the conference table to have tank treads. "Sometimes not so logical." Nicknamed the Tour de France, the table instead rests on a bike peloton.
"Clients seem much more receptive to brave new advertising ideas when they are presented on meeting tables supported by nine minibicycle frames welded together," says Joel Clement, regional creative director. Not all the bikes are stationary. While working late one night, Clement offered 500 baht ($16) to the winner of a fixed-gear race across the balcony. That led to talk of a possible agency Olympics, including field sports. Some throwing events may be problematic, though, because the U.S. Embassy is housed next door. Says Clement, "I don't think they'll appreciate flying objects in their airspace."

Before it's here, it's on the Bloomberg Terminal.
LEARN MORE