Peru's Humala Proves He's No Chávez
A year after his election, Peru's Humala has surprised skeptics
by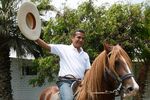 On June 6, 2011, the Lima Stock Exchange fell 12 percent, its biggest drop ever, as investors reacted to the election of Ollanta Humala as president the day before. Affluent Peruvians feared the ex-officer and one-time ally of Hugo Chávez would take Peru down the same path of nationalizations as practiced in Venezuela.
A year has passed. Peru has the fastest-growing economy in Latin America. The stock market is up almost 8 percent. Foreign investment is pouring in. What happened to the next Chávez? Even before his election, Humala had shelved his most radical proposals, such as obliging private pension holders to pay into a state retirement plan or rewriting the constitution to boost the role of the state in the economy. Humala has dispelled most investors' doubts about his pragmatism and commitment to keeping Peru's $176 billion economy open to trade and investment, says Raul Salazar, a partner at Lima-based consulting firm Macroconsult.
The president retained Central Reserve Bank Governor Julio Velarde, who's kept inflation the lowest in the region. He also negotiated a deal with the mining companies to receive $1.1 billion more in royalties without alienating them. He backed mining projects shunned by the left, acting with a moderation more typical of Brazilian ex-President Luíz Inácio Lula da Silva than Chávez. "The months have passed, and the government has done what it said it would," says Aldo Ferrini Cassinelli, a money manager at AFP Integra, Peru's second-largest private pension fund.
Humala's new slant grates with some members of his party. Peru's largest union plans protests in July to pressure the president to return to his original economic plan of state control of the main phone company, the ports, and more and sever what it calls his "alliance" with mining and oil companies.
Humala's toughest tests lie before him. Peru's 61 percent rural poverty rate may lead to increased calls for redistribution of wealth, Bank of America said in a May 4 report. Humala, who once pledged to make the state a partner in all natural resource projects, has yet to defuse unrest in the poor highlands. Four people died on May 28 in protests against Xstrata's Tintaya operation in the Andes, where it's investing $5.7 billion to boost copper output.
Humala inherited 214 unresolved social conflicts, many of them land disputes between peasants and mining companies, according to a bulletin prepared by the government's ombudsman. That number rose to 243 in April. Humala's push for better social and environmental conditions around mining projects should eventually assuage tensions and safeguard $53 billion of investment over the next decade, says Eduardo Ferreyros, general manager of exporter ComexPeru. Humala's legacy may depend on how well he eases those tensions.
Before it's here, it's on the Bloomberg Terminal.
LEARN MORE