business
Oil and Protests: Putin's Double Trouble
A drop in crude prices could imperil the Russian president's plans
By and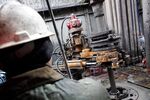 Hours after his release on May 24 from 15 days in jail, opposition leader Alexei Navalny was mobbed as he toured a Moscow protest camp that for days had resisted police attempts to clear it away. "You can't frighten us with iron beds and prison porridge. If necessary, I'll go back to prison 22 times," said Navalny. "Thousands of people like me are ready to defend their rights."
While only small numbers of President Vladimir Putin's opponents are camping on Moscow's Old Arbat street, a Greek exit from the euro could push Russia into recession and provoke more unrest. In 2009 the economy shrank almost 8 percent after oil prices dropped to $34 a barrel from $147 as the Lehman bankruptcy sparked a global downturn.
A report by the Center for Strategic Research in Moscow, which advises the government, warns that a fresh economic slump and the resulting need to slash social spending could provoke unrest across the country at a time of increased political repression.
"If these trends continue, we will see the escalation of political violence and repression on one hand and the worst economic crisis on the other," says Mikhail Dmitriev, the research institute's head and a deputy economy minister from 2000 to 2004. "This may lead to Putin losing control and a chaotic political transformation."
Protests have diminished some since tens of thousands of largely urban middle-class Russians denounced December's parliamentary elections as fraudulent. Today 72 percent of Russians view Putin favorably, according to a survey by the Pew Research Center. Yet 56 percent approve of the December protests, and 64 percent believe the economy is in poor shape. The government has lowered its growth projection for 2012 to 3.4 percent from 3.7 percent.
After pledging $150 billion in new spending for state workers, pensioners, and the military, Putin may have to make cuts to head off a widening budget deficit. Oil prices are already about $10 below the average price of $117 a barrel needed to balance the budget. Prices may fall to $80 a barrel if Greece leaves the currency union without triggering crises in other euro members—or as low as $60 if there is a "disorderly" breakup of the euro area, according to a recent Bank of America report. Russia, which relies on oil and gas exports for half its revenue, could post a budget deficit of 5.5 percent next year and suffer a 10 percent devaluation of the ruble, Bank of America forecasts. In the worst case the economy would contract 2.1 percent, and $95 billion in capital could flee, says Ksenia Yudaeva, chief economist at state lender Sberbank. Capital flight reached $42 billion in the first four months of 2012, according to Russia's central bank.
A crackdown on a mass protest the day before Putin's May 7 inauguration has escalated the tension. Activists who are keeping up round-the-clock protests in Moscow say Putin is now a pariah among world leaders and investors, illustrated by his absence from the Group of Eight summit recently held in the U.S. "Putin is responsible for capital flight because he's the one who's creating the conditions for political and economic instability," says Ilya Yashin, a coordinator of the recent protests who just spent 10 days in prison. "Putin's image today is of a usurper who only preserves his power with the help of repression and police batons." The opposition is planning its next major rally for June 12.
Before it's here, it's on the Bloomberg Terminal.
LEARN MORE