North Korea, Eco State?
The dictatorship is getting into the carbon trading business
by and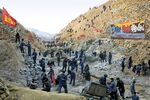 Talk about North Korea usually centers around how the regime starves its people, whether it has the bomb, and if Kim Jong Un is really in charge. The UN's Kyoto Protocol doesn't make the list.
Yet under the terms of the protocol, North Korea, as a developing country and a member of the United Nations, has the right to build clean energy projects that may apply for Certified Emission Reductions, or CERs, popularly known as carbon credits. The North Koreans can then sell them to a rich country or company that needs the credits to offset its own greenhouse gases. Dig into data from the UN's Framework Convention on Climate Change, and you will find seven North Korean projects registered for carbon trading.
This is where Miroslav Blazek comes in. Blazek, director of Czech company Topic Energo, acts as a link between North Korea and potential carbon credit buyers. He says his experience as manager of a tractor factory in socialist-era Czechoslovakia is invaluable for doing business with the communist North Koreans. "I can work with them because I understand how their system works," he says. "If I send an e-mail and still don't have a reply in several days, I know it's not because they didn't see it but because it had to work its way through the chain of command. For me it's like a trip down memory lane."
North Korea is now building seven hydroelecrtric plants, which provide some of the cleanest energy going. Most can earn tradable carbon credits. Blazek says the North Koreans "jumped" at the opportunity to get into carbon trading: "They immediately grasped that this is a way to make money." Korea's seven dams may generate as many as 241,000 CERs a year, worth almost €1 million ($1.3 million). "The projects are already in a relatively advanced phase," says Ondrej Bores, director of carbon advisory services at Virtuse Energy in Prague, who's worked with Blazek on other deals.
Still, selling anything made in North Korea has its challenges. More than 30 potential buyers pulled out because of the U.S. embargo on trade with North Korea. Blazek finally struck a deal with a Chinese-controlled conglomerate that needs credits to offset emissions from facilities in Europe. He won't name the company, citing a confidentiality clause.
When he visited some of the hydro dam sites, Blazek saw workers digging with their bare hands. "Human labor has practically no price there," he says. Maybe peaceful trade in carbon credits will make the regime a little less monstrous.
Before it's here, it's on the Bloomberg Terminal.
LEARN MORE