China Mobile Profits From the Google Void
The mainland's No. 1 wireless carrier rules the market for Android apps
Edmond Lococo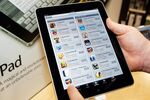 At the Temple of the God of the Capital in Beijing, Gao Puer sits on a bench under a tree playing poker on his Lenovo touchscreen smartphone. "I use my phone to download maps and e-books, too," says the electrical engineer. "Most of the apps I get are free, but some of the games are worth it to pay a few yuan." A few blocks away, Wei Xinping kills time while waiting for his girlfriend by playing Angry Birds on a handset made by Huawei Technologies. "I like to relax after work or on the weekends," says the banker.
Both gadgets are powered by Google's Android operating system, but the apps come from China Mobile. And therein lies a painful dilemma for Google. Android runs two-thirds of the smartphones sold in the world's biggest Internet market, yet the company's online app store, Google Play, isn't open for business in China. Google sharply scaled back its presence on the mainland in 2010 after tussling with China's censors. Taj Meadows, a Tokyo-based spokesman, declined to comment on why Google Play is still unavailable in China.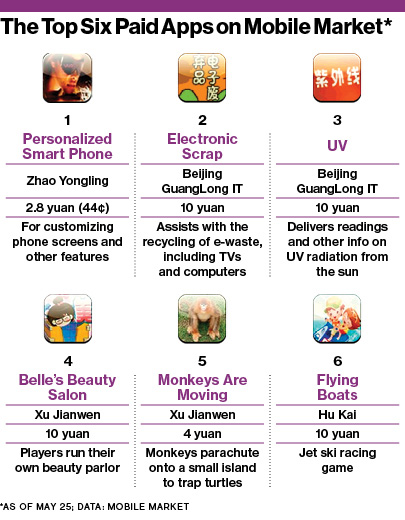 China Mobile, the world's biggest phone company by subscribers, has been quick to exploit Google's absence. The carrier launched its Mobile Market store for Android apps in 2009 and now has 158 million registered users. Customers have downloaded more than 630 million apps, making Mobile Market the world's largest carrier-operated app store, according to Jack Kent of IHS Screen Digest. "Without having to compete with the official Google store, China Mobile has an opportunity that operators in other countries don't have," he says.
The success of Mobile Market comes at a welcome time for the wireless giant. Growth in subscribers has fallen by almost half in the past three years, to 10.9 percent in April from 20.9 percent in April 2009. As a result, China Mobile must now figure out ways to squeeze more revenue from each of its 673 million customers. "The reason we care about this business is that it can help drive or promote our other businesses," says China Mobile Chief Executive Officer Li Yue. "If a developer makes a very good app, then it will help boost traffic on our network and help our growth that way." Sales advanced 12 percent last year, to 48.4 billion yuan ($7.6 billion), at the carrier's applications and information services division, which includes the Mobile Market store, as well as downloads of music, e-books, and video.
All Web content in China is censored, so Mobile Market doesn't offer apps to access the blocked websites of Facebook, Twitter, and YouTube. Apple's Chinese-language store abides by the same restrictions. Such controls have not damped competition, according to Analysis International, which tracks 13 major app stores in China, including those operated by phone carriers and handset makers. "A couple of years ago, everyone began to realize how huge Apple's app store was becoming and wanted into that market," says Neil Juggins, an analyst at JI Asia Research.
China Mobile's store is stocked with 68,663 apps—just a fraction of the 450,000 available on Google Play. Mobile Market features worldwide hits such as Instagram's photo-sharing and editing software and various iterations of Rovio Entertainment's Angry Birds game, as well as homegrown apps such as one that provides readings on ultraviolet radiation and a game in which monkeys must capture turtles.More than 90 percent of the offerings on China Mobile's store are paid apps, compared with 77 percent for wireless rival China Unicom and 48 percent for Apple. Prices for games typically range from the equivalent of 50¢ to $1.50.
Mobile Market logged sales of 23 million yuan last year, a rounding error on Google's balance sheet. (The company had revenue of $29.1 billion in 2011.) Still, China is poised to overtake the U.S. as the biggest market for smartphones this year. Based on that trend, Analysis International is forecasting an 80 percent jump in the local market for mobile applications and services, to 220 billion yuan. "Mobile Internet traffic has more than doubled in each of the past two years as smartphones get cheaper and more consumers can afford them," says Michael Meng of BOCI Research in Hong Kong.
Before it's here, it's on the Bloomberg Terminal.
LEARN MORE