Alexander Hamilton, Federalist Hunk
The enduring appeal of Alexander Hamilton—especially his jawline
By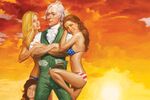 Alexander Hamilton was a stud. Yes, he served as George Washington's aide-de-camp during the Revolutionary War, wrote a majority of the Federalist Papers, became the first U.S. Secretary of the Treasury, and was the father of American finance—but he was also a quick-tempered, egotistical flirt who caused America's first political sex scandal and died tragically in a duel against Aaron Burr in 1804. And he's the only founding father to inspire his own hip-hop album.
Lin-Manuel Miranda, the Tony Award-winning creator of Broadway's In the Heights, is currently working on The Hamilton Mixtape, a concept album that tells Hamilton's life story through rap. Miranda performed parts of the Mixtape at the White House in 2009 and at Lincoln Center in New York City last year. "When I first read about him, I couldn't get the stories of Tupac and Biggie out of my head," says Miranda, whose new project coincides with a growing cultural fascination with the founding father.
Ever since the 200th anniversary of Hamilton's death in 2004—which saw the release of Pulitzer Prize-winning writer Ron Chernow's Hamilton biography and a well-attended reenactment of the Weehawken (N.J.) duel, in which Hamilton and Burr were played by their own descendants—Hamilton's fan base has been steadily increasing. He's been embraced both by Tea Party members (who champion the Federalist Papers) and on the left (who highlight his support of a strong federal government). In the past few months, his name has been invoked by economists in the U.S. and Europe as a source of wisdom on the federal debt and the euro zone crisis. "Europe is at an Alexander Hamilton moment," former Federal Reserve Chairman Paul Volcker declared in January, "but there's no Alexander Hamilton in sight."
But it's not just his brilliant political mind that has seduced people. Hamilton was a slender, fair-skinned, auburn-haired man with a chiseled jaw and azure eyes so alluring that Massachusetts representative Fisher Ames once called them "eminently beautiful." Henry Cabot Lodge described him as "very attractive," while a flustered Abigail Adams once wrote to her husband that Hamilton represented "lasciviousness itself." Or, as a woman named Breanna Lynn more recently put it on Facebook, "I'd tap that."
Lynn posted this message on the Facebook group "Alexander Hamilton Was the Foxiest of the Federalists," just one of a string of Hamilton fan pages that have cropped up on the social network. Others have names such as: "I love Alexander Hamilton," "Alexander Hamilton … The Hotness Never Dies," "Are you Treasurer Sexy?" and "Alexander Hamilton: Too Hot For Your Wallet." There are Tumblrs, Twitter accounts, and fan fiction communities dedicated to the patron saint of Wall Street. A year ago, Rod Blagojevich admitted to having "a man crush" on him.
"Just Google 'Alexander Hamilton Is Hot' and you'll be surprised [by what] you get," says Caroline Hamilton (no relation), an English lecturer at the University of Pittsburgh who has written about Hamilton's modern-day popularity. "Interest in Hamilton has really come back."
A number of Hamilton appreciation groups are preoccupied with how dashing he looks on the $10 bill, which was redesigned in 2005. The oval around Hamilton's portrait was removed, his shoulders were broadened, his face given more prominence. "He looks like he's been Hollywoodized," says biographer Chernow. "The Treasury Department in all its wisdom has turned him into a real hunk."

Similar updates have been made to other denominations, but only Hamilton's has inspired lustful swoons. "The new bill uses the same portrait as before," says Douglas Mudd, curator of the American Numismatic Association's Money Museum in Colorado Springs. "But now it's a little bit more friendly-looking. Aside from his hairdo, you could easily imagine him being a modern person."
Hamilton's rags-to-riches story is a big part of his mystique. He was born on the Caribbean island of Nevis in either 1755 or 1757 to parents who never married. After his father left and his mother died, Hamilton worked as a clerk in Danish-controlled St. Croix. He was still a teenager in 1772 when he published a moving essay on St. Croix's near-destruction by a hurricane; it so impressed local leaders that they raised money to send Hamilton to school in New York. Within five years, the upstart was working alongside George Washington and operating in some of the most prestigious social and political circles in what was to become the United States. "He is the classic American success story. He comes out of nowhere, recreates himself, and sets the world on fire," says Chernow. "He was the Elvis Presley of his time."
As Secretary of the Treasury he developed a system for national debt and helped found the central bank. Hamilton foresaw the benefits of an industrialized, merchant economy in ways that his Jeffersonian counterparts did not. "What is good about the American economy is largely the result of the Hamiltonian developmental tradition," writes Michael Lind in his latest book, Land of Promise: An Economic History of the United States.
"He's the architect of American capitalism," says Charles Sahm of the Manhattan Institute, which last month gave out its annual Alexander Hamilton Awards to those, such as Indiana Governor Mitch Daniels, who represent "Hamiltonian values."
He was also deeply flawed—in a cool, brooding, James Dean kind of way. Hamilton developed a reputation as a prolific and unforgiving polemicist, and he never learned to pull his punches, earning as many enemies as he did followers. An affair with a married woman—whose husband successfully blackmailed Hamilton, who was also married—nearly ruined his career. Jefferson disliked him. Adams downright despised him. And after enduring a series of private and public insults, Aaron Burr killed him.
"He was sort of the bad-boy alternative to the Washingtons and Jeffersons in history class," says Julia Cooperman, 22, a recent graduate of University of Southern California and a "Foxiest of the Federalists" Facebook group member. Cooperman says her Hamilton infatuation began in eighth grade. While other girls fawned over Zac Efron or the Jonas Brothers, she founded an after-school club called the Hamiltonians, where she and her friends discussed 18th century American history—and gushed over how cute Alexander Hamilton was. "We had a Mister Hamiltonian Pageant, where we made the four guys in the club compete to see who most embodied the Hamiltonian ideal," she says. In other words, who looked the best in a wig.
"I'm sure girls in school have felt this way for decades, it's just that now we can find each other on the Internet and create websites about it," says Morgan Herrell, a Yale University junior who, along with her friend Celia Rost, runs the Hot and Historical Tumblr that catalogs which historical figures are the sexiest and why. "Some people find Henry Clay attractive. There's a Team Daniel Webster out there. It can get competitive." Herrell says Hamilton is by far the most popular figure on their website. "Whenever we post a picture of him, we get so many page views it's insane," she says.
Lin-Manuel Miranda seems like the person best poised to cash in on Hamilton mania; his Mixtape should be released by 2013, and he hopes to turn the album into a full-length Broadway production. What we really need, says Caroline Hamilton, is an Oscar-worthy Hollywood biopic. She even knows who should play him. "We need someone with the right face, who's the right age, and who's capable of passionate, articulate utterings," she says. "You know who'd be perfect? Ryan Gosling."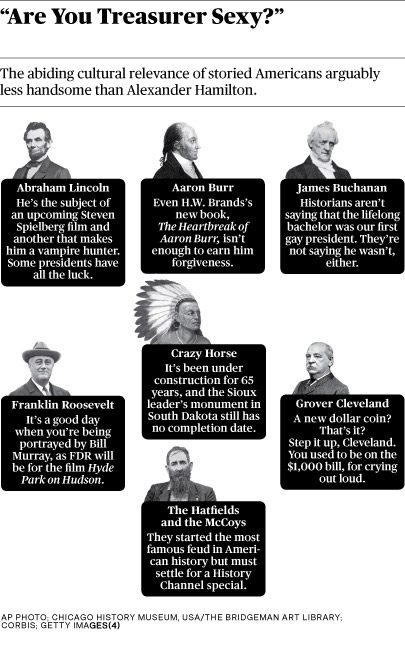 Before it's here, it's on the Bloomberg Terminal.
LEARN MORE