Remaking J.C. Penney Without Coupons
Former Apple Store chief Ron Johnson is remaking the venerable retailer. It's not going well
By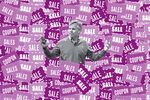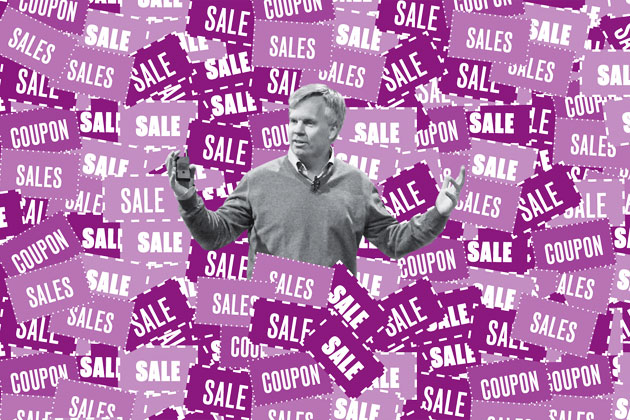 Here's a riddle: How do bargain hunters know they're getting a bargain if there's no hunt? The answer is, they don't. That's just one of the lessons Ron Johnson has learned in his six months as chief executive officer of J. C. Penney. Johnson developed Target's "cheap chic" persona before moving to Apple, where he created the world's most profitable stores. Now he's trying something really hard. He wants to wean Penney's middle-market customers from a steady diet of coupons and almost constant discounting. So far, they're not buying. "The transition has been tougher than we anticipated," Johnson said during a May 15 presentation to investors.
Johnson's strategy was deceptively simple: quickly replace Penney's relatively high list prices—which it aggressively discounted—with lower everyday "fair and square prices." The early results of that grand experiment have been dismal. The department store chain, with 1,100 U.S. stores, had overall revenue of $3.2 billion in the first quarter, and lost $163 million during that time. Sales at stores open more than a year fell an average 19 percent. The number of people coming into Penney stores dropped by 10 percent, and the number of those who bought something fell, too, by 5 percent.
"What is the source of this?" asked Mike Kramer, Penney's new chief operating officer, during the May presentation. "Coupons, that drug," he said. "We did not realize how deep some of the customers were into this. … We have got to wean them off this and educate our consumers." Added Johnson: "We have got to get people to understand our pricing strategy."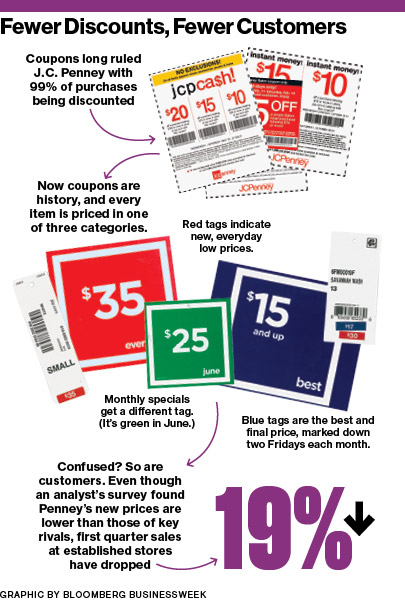 Before Johnson's arrival, a pair of sandals at Penney might have been priced at $39.99 and, after all the coupons and discounts, sold for $29.99. Now the shoes are available for an everyday price of $30 from the start. Johnson's setup allows special month-long values for some items; in May, for example, the sandals could go for $22. And if some are still in stock, they would later be marked down to the so-called best price of $15 on the first or third Friday of the month (when most shoppers get their paychecks). "I went into a store a couple of weeks ago, and I couldn't figure out what was what," says Jay Margolis, a former executive at Limited Brands.
There's no question Johnson knows how to craft a retail makeover. He's the guy who came up with the designer collaborations at Target that burnished the discounter's reputation and afforded it more control over its goods—and their prices—than rivals. Then Johnson created Apple's ultracool stores. From there he was recruited to Penney by Bill Ackman, whose hedge fund, Pershing Square Capital Management, owns 18 percent of the 110-year-old retailer.
In January, Johnson unveiled his four-year plan to transform Penney into America's favorite store. In a presentation to investors and suppliers, he described a department store built around a so-called town square, with up to 100 boutiques carrying items made by well-known brands specifically for Penney. The first store-within-a-store he announced will sell home goods by Martha Stewart. "Ron Johnson is attempting one of the boldest transformations of any retailer or any company ever," says Whitney Tilson, founder of hedge fund T2 Partners and an investor in Penney.
But Johnson says first he had to fix the pricing. "We wouldn't have had access to many of our new brands and design partners without implementing a new pricing model," he says by e-mail. Less than 1 percent of all Penney merchandise was sold at full price prior to his arrival. The company offered 590 different promotions a year, yet the average customer made only four visits during that time. "That means the customer ignored us 99 percent of the time," Johnson said in January. "Steve [Jobs] would have called this insanity. J. C. Penney spent $1 billion [on promotions], and the customer ignored us. It's like in junior high school, if you keep calling a girl and she doesn't call back, you seem desperate."
Although Johnson says future ads will do more to explain the new pricing scheme, that may not help as much as he hopes. "These are not women who feel taken advantage of by coupons and deals," says Mark Ellwood, whose book, Bargain Fever, comes out next year. "To them, there's the thrill of the hunt—it's hunting and gathering with a credit card. No consumers have been complaining about discounts."
Many shoppers may need to see the markdowns to believe they're getting a good deal, says Barbara Kahn, a professor of marketing at the Wharton School. That's especially true when it comes to the basic items—from underwear to dinner plates—that Penney mostly sells. Johnson said at the January presentation that shoppers distrusted the store because it offered so many discounts it was impossible to know the real price. Yet he may have gotten it backward. "Underneath the bargain craziness is a lack of trust in business," says Kit Yarrow, a consumer psychologist and professor at Golden Gate University. "But now J. C. Penney has made it look like its customers were buying cheap stuff. People are looking at it the opposite way J. C. Penney had hoped."
Penney isn't the first retailer to try to ditch coupons in favor of everyday low prices. After Macy's acquired rival May Co. in 2005, executives thought they could reduce the huge number of discounts it offered. But sales fell, the stock dropped, and executives soon abandoned the idea. At an April conference for investors, Karen Hoguet, Macy's chief financial officer, said, "People love these coupons. They love thinking they got us."
There is, of course, one way to avoid big discounts: sell Apple products. That is, sell products consumers can't buy anywhere else at a lower price. Johnson's vision of an amalgam of 100 boutiques with specially designed items from the likes of Jonathan Adler, Vivienne Tam, and Tourneau may eventually give him some of the pricing power he had at Apple and Target. But here's another riddle: Which comes first, the price or the products? Johnson "jumped the gun on his pricing strategy," says Rafi Mohammed, a pricing consultant and author of The 1% Windfall. "He should add the boutiques and the town square, and then he'll have the mojo to change the pricing."