Jelani Roy's Game Change
A former sports agent finds his calling in a different position: point guard for a tech startup
Alexandra Wolfe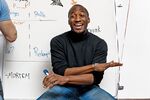 When Jelani Roy, 30, graduated from law school at Temple University in 2009, the sports-law practice at Dewey & LeBoeuf gave him the option to take a year off or start as an associate. He opted for the former. During a trip to Buenos Aires, he got a call from a basketball player named Roy Bright who was looking for legal representation overseas. Roy brokered a deal between Bright and Baerum Basket, a team in Norway. Soon after, other basketball players came knocking, and Roy accumulated a client roster of half a dozen. "I enjoyed it," he says. "But I was always up in the middle of the night waiting to hear back from e-mails."
Then a college friend named Mateen Aini told him about his idea for a company called Plyfe that would create games, from trivia to animated challenges, for brands, which would reward players with prizes—a trip to Las Vegas, say, or an iPad. Roy ditched his law career in January and joined the startup as part game developer, part client manager. "I'm dealing with technology," he says. "I have to know what we're doing, and how to explain it for the brand. It's creative. I help the brand make the game."
Plyfe launched in March with $1 million in seed money. Since then it has expanded from seven to 17 people and works with nearly 10 brands, including Disney, Gatorade, and Live Nation. It now has 51,000 users; Roy says Plyfe aims to reach 1 million in a year and expand to 100 brand partners. Most of all, he doesn't miss the sports world. "There are deal points to negotiate, but contracts are all the same form," he says. "Now I'm creating content. It's a lot more right side of the brain."
 
Jelani's Best Advice:
 
1. Treat personal data with care
Consumers are giving away tons of personal data about themselves. Reward them in exchange for these data. This will help you keep your most socially active consumers loyal and increase your base.
 
2. Meet partners halfway
Stay true to your company vision. Partner companies may want you to change your product. Find the middle ground so you can meet their objectives while remaining faithful to your company's core.
Before it's here, it's on the Bloomberg Terminal.
LEARN MORE