Chipotle's Undocumented-Worker Problem Resurges
By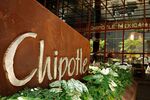 Chipotle, the fast-growing, burrito-slinging chain, has become the government's highest-profile target in its campaign against employers of illegal immigrants. For the past two years, Chipotle has been subject to a probe by the U.S. Attorney's office in Washington and the U.S. Immigration and Customs Enforcement. Now the Securities and Exchange Commission is looking into Chipotle's statements and disclosures for possible criminal wrongdoing, the company revealed in a regulatory filing on May 22.
President George W. Bush's administration specifically targeted workers in raids that traumatized communities and companies. (I wrote about a raid on a Swift [JBSS3:BZ] meatpacking plant in 2008.) President Barack Obama's administration has gone after employers, forcing them to take more responsibility for whom they hire.
As a result of ICE's investigation, which began in 2010, Chipotle fired about 450 Minnesota workers who couldn't confirm the validity of their work documents. It also conducted audits in other states. Chipotle provided more than 300,000 pages of documents to the government agencies. And it had begun using the Department of Homeland Security's E-verify program which, as its name suggests, verifies the documents provided by potential employees. "We thought it was winding down, so we were surprised last Wednesday when the SEC called our lawyers and said they would be subpoenaing documents," Chipotle's Co-Chief Executive Officer Montgomery Moran said at a Morgan Stanley conference on Wednesday.
So why now? And why the SEC? "The SEC likes to flex its muscles in areas that are hot buttons for the administration and this may be one of them. I don't think Chipotle has been flagrantly violating any laws. I suspect this has more to do with the SEC trying to get a little more aggressive," says Richard Fearon, managing partner of Accretive Capital Partners, a fund that invests in the industry but not in Chipotle. The agency declined comment via e-mail.
Meanwhile, the workers who were fired have been pushed into the underground economy, where companies don't conduct background checks–or pay minimum wage or taxes, either. "Audits actually create worse working conditions overall because their scrutiny of employers who keep everything above board has the perverse effect of letting off-the-books employers off the hook," says Emily Tulli, an attorney with the National Immigration Law Center. (Tulli backed off her earlier comment to us about Chipotle being an industry leader on compensation, saying she doesn't have any personal knowledge of Chipotle's employment practices.)
Before it's here, it's on the Bloomberg Terminal.
LEARN MORE