pursuits
What It's Like to Photograph Mark Zuckerberg's Wedding
Jennifer Daniel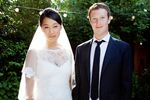 Mark Zuckerberg announced his wedding exactly as you'd expect: with a Facebook status update. The post-nuptial snapshot of him and his longtime girlfriend, Priscilla Chan, instantly went viral, with more than 1 million likes and hundreds of comments. Details of the wedding trickled out over the next few hours, including the identity of the photographer behind the iconic shot: 31-year-old Brooklyn-based artist Noah Kalina.
"We shot immediately after the ceremony," Kalina explains by e-mail. "I wanted an image that would show something clean, beautiful, and free of contrivance."
Although not a wedding photographer, Kalina is a professional artist and no stranger to the world of viral sensations. In 2006 he gained Internet celebrity status when his "Everyday" video—time-lapse footage showing one photo of Kalina every day over the previous six years—went viral. It inspired an iPhone app that helps others do the same thing and was even parodied on The Simpsons.
Zuckerberg and Chan met Kalina the old-fashioned way: at the wedding of a mutual friend. "Mark and I played ping-pong. He is really good," says Kalina, who joined Facebook in 2007. Chan called him up on Friday, the day of Facebook's $16 billion initial public offering. "I was on a plane the following morning," he says. "I arrived just a few hours before the wedding started."
Kalina shot the couple with a Canon 5D Mark II and a 24-70 mm lens, a professional-level but fairly standard camera. He spent about 15 minutes editing the photos (and no, he didn't use Instagram, the Facebook-owned photo-filter app). "Then I watched as they updated their Facebook timelines," says Kalina.
As for the rest of the wedding album, it's unlikely it'll be uploaded to Facebook. "I shot additional portraits over the course of the evening, but those photographs will remain private and will just be for Mark and Priscilla to enjoy." Apparently not everything should be shared, even when you're the founder of Facebook.
Before it's here, it's on the Bloomberg Terminal.
LEARN MORE