Awkward: Obama, Merkel, and Cameron Watch Soccer
President looks surprised as goal is scored
By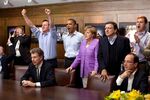 Awkward, huh? Your friends are rooting for different teams, and you're the host in the middle. The awkwardness is multiplied a thousand times when you're the president of the U.S. and your two friends are the British prime minister and the chancellor of Germany. The relationship between David Cameron and Angela Merkel was testy even before the start of the Champions League football final on Sunday between Chelsea and Bayern Munich, which Chelsea won. In 1969, El Salvador and Honduras fought a war that was triggered by a soccer match ("La Guerra del Futbol"). Of course, Germany and Britain have had their own unpleasantness in the past ("World War II").
Scrutinize the expression on President Barack Obama's face as one of Chelsea's strikers puts the ball in the net in the overtime penalty-kick shootout. It's not clear from the caption supplied by the White House which shot this was, but it might have been the one, by Didier Drogba, that won the game. Cameron is cheering, Merkel seems quietly disappointed, and Obama has a look of surprise, as if to say, "Now what do I say?" Cameron told reporters later that he had to explain some of the finer points to Obama, who is more familiar with the kind of football played with helmets.
"The president was able to offer his sympathy to Chancellor Merkel when that concluded, as did Prime Minister Cameron," Deputy National Security Adviser Ben Rhodes told reporters.
One other world leader at Camp David who was cheering for Chelsea was Russian President Dmitry Medvedev, since Chelsea's owner is Russian billionaire Roman Abramovich. Medvedev wasn't in the official photo. Francois Hollande, the new French president, was in the frame. He looks fairly neutral at the decisive moment even though Drogba is a French speaker from the Ivory Coast who grew up partly in France.
Obama may have been wondering, on second thought, if it was really such a great idea to get his buds to watch the shootout together. For more on the fun at Camp David, read "White House Tries to Blunt Euro Debt Crisis with Soccer, Cake" by Bloomberg News reporter Kate Andersen Brower.
Before it's here, it's on the Bloomberg Terminal.
LEARN MORE