business
Stress Takes Its Toll on College Students
Francesca Di Meglio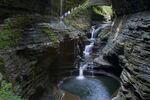 There is no denying that today's undergraduates are under lots of pressure. College tuition continues to rise, which means many of them are buried in debt; the slow economy is making it difficult to find jobs after graduation; and academia, much like the rest of the world, continues to get ever more competitive.
All that stress can be grueling, and it can lead to emotional and mental health problems. A 2012 study by the American College Counseling Association found that 37.4 percent of college students seeking help have severe psychological problems, up from 16 percent in 2000. Of the 228 counselors surveyed, more than three out of four reported an increase in crises in the past five years requiring immediate response, 42 percent noted an increase in self-injury, and 24 percent have seen an increase in eating disorders.
By far, depression and anxiety are the most prevalent mental health problems students confront, says John MacPhee, executive director of the Jed Foundation, which oversees the website ULifeline.org, a resource center for students dealing with emotional issues. "Only back pain, sinuses, and allergies are more prevalent among college students," he adds.
Indeed, the second leading cause of death among college students is suicide, which accounts for about 1,100 deaths per year on campuses, says MacPhee. The No. 1 killer is accidents, which include accidental overdoses and drinking and driving deaths, many of which might be linked to depression and anxiety, too, he adds.
Recently relaunched, ULifeline allows universities to register with the site, which permits them to offer information about how students can seek help on their own campuses. ULifeline also features a confidential mental health screener, which attracts about 25,000 visitors each year and is used by counseling centers to assess the emotional well-being of students, says MacPhee. The site itself receives about 25,000 to 30,000 visitors per month during the peak months of September and October. And 1,400 schools have registered with it so far.
Over the years, Cornell University has gained a reputation for having an inordinate number of suicides on campus. The reality is that the number of suicides is not very different from national statistics; it is the way the suicides are committed, says Gregory Eells, director of counseling and psychological services at Cornell, that is shocking. While national statistics show that only about 2 percent of suicides are jumping deaths, about 40 percent of the suicides that have taken place at Cornell in the last 30 years have been a result of jumping into the gorges near campus.
Cornell provides support through psychologists, counselors, psychiatrists, and others, Eells says. It offers programs, such as Let's Talk, which are designed to get students to reveal what they are feeling in a safe environment. The staff is equipped to deal with a variety of problems, including psychosis, depression, and anxiety. In the 1990s, the university began to expand its mental health services and doubled its staff. Since then, more and more students have come for help, says Eells.
Besides the bad economy and uncertain future, students are overwhelmed by technology, he adds. "All this technology distracts you from developing important emotional skills, which are a sign of emotional maturity," Eells says. Among the skills lacking in today's students, he says, is the ability to stay focused and to understand that one cannot control everything.
Incoming students at the University of North Carolina, Chapel Hill, will be required to read The Shallows (Atlantic, 2011) by Nicholas Carr about the brain changes brought on by the Internet. This technology makes people feel more disconnected and anxious, says Allen O'Barr, UNC's director of counseling and wellness services, which sees about 12 percent of the student population. This leads to a general sense of meaninglessness. "Students are jumping through hoops and saying, 'I probably won't even get a job,'" he adds. Their parents are also distressed, and students see their unhappiness and start to question what they are doing with their lives.
While the stigma attached to mental illness might prevent many troubled students from seeking help, the fact is that more students are seeking help, says MacPhee. In April, the ULifeline site had 14,452 unique visitors, up from 10,241 in April 2011, a 41 percent increase.
Join the discussion on the Bloomberg Businessweek Business School Forum, visit us on Facebook, and follow @BWbschools on Twitter.
Before it's here, it's on the Bloomberg Terminal.
LEARN MORE