London's Russian IPOs
Russian companies prefer to list their shares in London
by and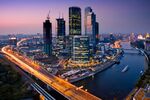 German Pikhoya, chief executive officer of Polyus Gold International, has a simple explanation for why Russia's largest gold miner is switching its main stock listing to London from Moscow later this year. "Because our investors are there," he says. His decision is unwelcome news for Vladimir Putin, who began his third term as Russia's president on May 7. Putin and his predecessor, Dmitry Medvedev, have been trying to turn Moscow into a global financial center, in part to diversify Russia's economy away from its reliance on oil and other resources.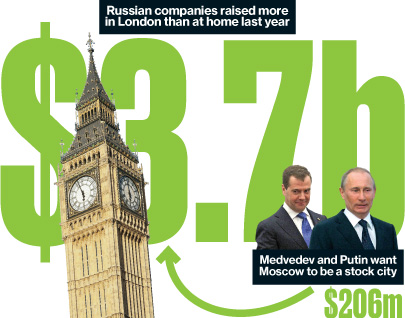 So far their efforts, including merging Moscow's two biggest exchanges to form Micex-RTS in December, aren't working. Russian companies from miners to financial institutions continue to flock to foreign exchanges. Six of London's 10 biggest initial public offerings last year were Russian. This year, Russian companies including mobile-phone operator MegaFon plan to raise as much as $4.7 billion in London, the most since 2007, according to data compiled by Bloomberg. Even Russia's central bank will probably choose London as the primary venue when it sells shares valued at about $6 billion in Sberbank, the nation's biggest lender, according to people with knowledge of the plan who are not authorized to speak publicly. The sale may come later this year as part of the central bank's plan to reduce its 60 percent stake in the bank. Russian companies raised $3.7 billion in London IPOs last year, compared with $206 million in Moscow IPOs, according to Bloomberg data.
Russian companies are attracted to London's deeper investor pool. The combined value of shares traded in the U.K. was $3.3 trillion as of May 7, compared with $807 billion in Russia. Asset managers also remain cautious about Russia's political uncertainties. "Getting a stock market listing in London is a way for companies to convince investors that they are minimizing the risk of corporate governance issues and politics," says Maarten-Jan Bakkum, an emerging markets strategist at ING Investment Management.
London also offers the biggest Russian companies the possibility of inclusion in the FTSE 100, the U.K. benchmark for large companies. Those included in the index typically see more demand from index-tracking funds. In December, Evraz, Russia's largest steelmaker by output, and Polymetal International, a silver and gold miner, became the first Russian companies to join the FTSE 100 index after switching their main listings to London in November.
One disadvantage for Moscow is the dearth of investment money coming from domestic institutional investors, including pension funds, according to Gareth Morgan, a London-based fund manager at F&C Asset Management. Russia's pension funds put less than 1 percent of their assets in local equity markets, says Ruben Aganbegyan, president of the Micex-RTS. They are required to report positive returns each year, so they invest in more conservative assets such as bonds. In the U.K. about 40 percent of the nation's pension money is invested in equities, says Aganbegyan.
The Micex-RTS is planning changes this year to make itself more appealing to foreign investors. It intends to bring the rules for settling trades more in line with international standards. Still, it has a long way to go to be competitive. The bourse unnerved some investors when it experienced a major technical failure on April 23, prompting a trading suspension on a day the stocks on the exchange were falling more than 2 percent. "The suspension in trading does not inspire confidence," says Zina Psiola, a fund manager at Granite Investment in Zurich. "Micex has to convince me that it is a good alternative to London."
Before it's here, it's on the Bloomberg Terminal.
LEARN MORE