Chattanooga's Radio-Operated Streetlamps
Radio controls cut energy use—and maintenance headaches
By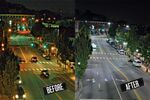 Almost a third of Chattanooga's annual energy bill comes from old high-pressure sodium streetlamps. At any given time 5 percent of the bulbs are burned out, and they sometimes go on during the day, needlessly adding to electric bills. "You've got a certain amount of lights out but you have no idea where they are, so workers literally drive around in a truck looking for them, and it's a real waste," says David Crockett, director of the city's office of sustainability.
After deciding to replace the streetlamps with light-emitting diodes (LEDs) that can cut energy use by 70 percent, Chattanooga officials discovered a local company with a further cost-saving proposal: a radio-controlled system that can also slash maintenance expenses. Combined, the changes promise dollar savings of 75 percent to 80 percent.


Following a successful test of 350 lights last year, Chattanooga contracted with Global Green Lighting to replace the city's 26,500 streetlamps at a cost of $18.1 million. With estimated savings of $2.7 million annually when the project is completed in late 2013, the system will pay for itself within seven years, Crockett says. "If we'd just done LED, that would be like putting rocket boosters on horseshoes because it's an old design," he says. The radio control "gives us total flexibility in how we use each individual light."
With the radio network, the city can turn streetlamps on and off and tailor brightness to a neighborhood's lighting needs. The system records the GPS coordinates of each lamppost, which is correlated with dawn and dusk times, so the lights only come on when it's completely dark. Traditional fixtures rely on photo cells that turn them on at dusk and off at dawn, and they can't be programmed to go on at other times.
Chattanooga's new lights tell maintenance workers when a bulb is burned out, when power is lost, or if other repairs are needed. Energy usage data is fed back to the local electric company, eliminating the need for manual meter readers. "Our lights meter-read themselves," says Don Lepard, chief executive officer of Global Green Lighting. "If there's a maintenance issue, they tell us what component is broken and what tools are needed to fix it."
Dozens of companies compete in the LED business, including General Electric, Philips Electronics, and Osram Sylvania, which together control about 40 percent of the North American market, according to consulting firm Frost & Sullivan. Most LED streetlamp deployments simply replace older bulbs with more efficient ones but lack the controls that Global Green offers, says Frost & Sullivan analyst Konkana Khaund. "They're trying out something that the bigger guys haven't really done as far as auto metering and auto reporting, and it is very innovative," Khaund says.
Global Green is working on a flash strobe mechanism so the lights can also serve as a warning system for tornadoes or security threats or help guide ambulances and fire trucks to a particular address. Cops can also control the brightness when they're chasing a suspect in parks, alleys, or other areas with dimmed lights. "A policeman can sit in his car and double the intensity or turn the lights off if there was a need to cover a SWAT team," Crockett says.
Global Green charges an ongoing service fee that's typically about 25 percent of existing maintenance costs, says Lepard, who founded the company in 1997 as an electronics component maker and remains the sole owner. This summer, Global Green plans to open a manufacturing facility near Chattanooga that will create 250 jobs assembling lights for the city. The company also expects to hire 1,000 people to install and maintain the equipment.
Global Green and Sensus, a Raleigh (N.C.) company that makes the radios and metering equipment, are doing more demonstrations in Baltimore, Ottawa, and at several universities. The University of Alabama in Tuscaloosa began a test with 15 lights from Global Green in April and plans to expand it in coming weeks. The system has helped enhance security, cut energy use, and trim maintenance costs, says Tim Leopard, the school's assistant vice president for construction. It also allows control of lights at athletic facilities such as tennis courts from afar, he says. The technology "could solve a lot of challenges we have," Leopard says. "Other manufacturers didn't have the control options and the Web access to bring it all together."