business
Behind the Strong U.S. Export Numbers
Capital goods, aircraft showed gains
By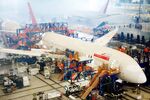 The latest U.S. trade figures (PDF) showed a surprising surge in non-oil imports in March, a sign that American consumers are spending more. Just as surprising—and more encouraging from the U.S. point of view—was the 2.9 percent growth in exports, to $186.7 billion for the month. That's the highest value of U.S. exports ever. "The export numbers are encouraging," says Millan Mulraine, senior U.S. strategist for TD Securities in New York. "They show that global activity is stronger than we thought and demand is better than expected."
Here are five areas that are playing a role in the export expansion:
Capital Goods. That's all the equipment needed to build factories, power plants, and so on. The 2.8 percent advance in capital goods exports shows continuing strength of demand from emerging markets, which are spending to build out their infrastructure. Think General Electric, with its turbines, and Caterpillar's construction equipment.
Civil Aviation. This essentially means Boeing. Aircraft orders are notoriously volatile, but the sector showed a 3.6 percent gain, to $3.7 billion worth of orders for the month.
Computer Accessories. This category actually showed a 7.3 percent decline in exports, month to month, reflecting the continuing shift from desktops and laptops to tablets and smartphones. For the year to date, however, computers and computer accessories show a nearly 10 percent gain in exports. And Apple is a big beneficiary of that shift to mobile computing; China now accounts for 20 percent of its sales.
Food and Beverages. The U.S. is still one of the world's breadbaskets, as China's recent large order of U.S.-grown corn demonstrates. Exports for this category rose 4.7 percent in March, to $10.4 billion.
Petroleum Products. This sector's exports grew 7.8 percent, a further sign of the transformation of the domestic oil and gas industry. The U.S. exported refined petroleum products—not crude—enough so that some refer to the U.S. as the "China of refined" gasoline. But the day may come when crude is again a major export item.
Before it's here, it's on the Bloomberg Terminal.
LEARN MORE