Apple, the Other Cult in Hollywood
Apple has spent decades building relationships in the entertainment industry
By and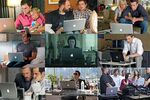 For most of Gossip Girl's first four seasons, none of the hit show's glamorous teens carried the most talked-about smartphone of the last five years: Apple's iPhone. Because of a product placement deal, they could only be seen with phones chosen by Verizon Wireless. Then, this season, shortly after the deal lapsed, several main characters started receiving their "Xoxo, Gossip Girl" texts on Apple's hit device.
The cast's sudden conversion cost the Cupertino (Calif.)-based iPhone maker nothing. Apple has spent decades strengthening its subtle but powerful grip over Hollywood, and unlike many companies, says it never pays for its products to appear on television or in movies. The company's gadgets were discussed or shown 891 times on TV in 2011, up from 613 in 2009, according to researcher Nielsen. In the same year, iDevices appeared in more than 40 percent of the movies that topped the weekly box office, according to Brandchannel, which tracks product appearances. That's nearly twice the penetration of the next most common brands in Hollywood—Dell, Chevy, and Ford.
This dominance comes as product placement's importance grows. Due to DVRs, fewer people watch TV ads. Many more purchasing decisions are driven by the chatter on Facebook and other social media—and much of that is driven by movies and television. And Apple's traditional ads have carried less oomph recently, according to ad tracking firm Ace Metrix. Test audiences judged one recent ad for the iCloud online service 15 percent less favorably than previous spots. "Apple hasn't been up to its normal brilliant performance for much of the past year," says Ace Metrix Chief Executive Officer Peter Daboll.
Hollywood product placements help make up the difference. When Jon Holtzman was an Apple marketing manager in the early 1990s, the company had no inventory reserved for set decorators and prop masters. Filmmakers interested in using an Apple product had to wait for reporters to return review models and often got older devices. Holtzman successfully lobbied to make product placement as much of a priority as the editorial loan program and privileged access for employees' friends and family. And that made the newest devices available to Hollywood.
Holtzman also tried to persuade higher-ups to make a small but important product change. In the 1990s, Apple's PowerBook laptops included a company logo on the lid that faced the user sitting at the computer. When the lid was opened, the logo was upside down. Holtzman knew this was inconvenient to filmmakers and had stickers printed to cover the actual logo and have it appear correctly onscreen. A few years after Steve Jobs returned in 1997, he flipped the logo for good.
Apple was struggling in those days, and then, as always, refused to pay for product placement, though the company did acquiesce to the occasional quid pro quo. In 1996 it secured a starring role for its PowerMac laptop in the first Mission: Impossible film in part by agreeing to promote the movie in its ads. The resulting TV spots were essentially clips from the movie with a few Apple logos mixed in. "We saved almost $500,000 in production costs—and got Brian De Palma to direct and Tom Cruise to act in it," says Holtzman.
Such barter deals are common today, and Apple is rare in having the luxury to skip them. The latest Mission: Impossible movie, directed by Brad Bird (who directed two movies for Pixar Animation Studios, formerly owned by Steve Jobs), featured eight minutes of screen time for iPhones, iPads, and iMacs, according to Eric Smallwood, senior vice president with Front Row Marketing Services. Smallwood estimates the value of that screen time at $23 million. BMW cars were also featured prominently in the blockbuster, but the carmaker agreed to make a number of investments to support the film, according to Ruben Igielko-Herrlich, co-founder of Propaganda Gem, which arranged the deal. BMW spent millions making custom cars for the film and shipping them to sets in Dubai and elsewhere. It also featured the movie in its own ads and hosted screenings at dealerships.
Jim Christensen, a longtime public-relations executive with Hewlett-Packard, runs a program that loans HP gear to movies and TV shows. His annual budget is "not even close" to $100,000, and HP gets lots of free product placement, but usually in scenes where filmmakers want the setting to feel, well, typical. "If the studio is using the product as it would be used in the real world, then it makes perfect sense to select HP," says Christensen, who has gotten HP desktops on the sets of The Office and CSI: Crime Scene Investigation. "Government agencies use tons of HP."
Apple products, on the other hand, sometimes take a lead role as an object of devotion, as in a famous 2010 episode of Modern Family. Airing just two days before the first iPad hit stores, the episode centered around dad Phil Dunphy's quest for the new device. The plotline was unusual in part because Modern Family executive producer Steve Levitan has on multiple occasions nixed eight-figure product placement deals that don't feel true to the plot, according to a branding expert who asked not to be named to protect business relationships. Levitan declined to comment.
Gavin Polone, a producer of HBO's Curb Your Enthusiasm and movies including Panic Room, says that's just the way it goes sometimes: Producers and executives may make plot changes or write entire episodes merely because they love a brand or in exchange for freebies. "Apple won't pay to have their products featured, but they are more than willing to hand out an endless amount of computers, iPads, and iPhones," he says. "It's kind of a graft situation."