Why France Has So Many 49-Employee Companies
French companies stay small to escape stifling work rules
by and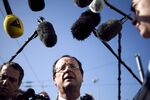 Here's a curious fact about the French economy: The country has 2.4 times as many companies with 49 employees as with 50. What difference does one employee make? Plenty, according to the French labor code. Once a company has at least 50 employees inside France, management must create three worker councils, introduce profit sharing, and submit restructuring plans to the councils if the company decides to fire workers for economic reasons.
French businesspeople often skirt these restraints by creating new companies rather than expanding existing ones. "I can't tell you how many times when I was Minister I'd meet an entrepreneur who would tell me about his companies," Thierry Breton, chief executive officer of consulting firm Atos and Minister of Finance from 2005 to 2007, said at a Paris conference on April 4. "I'd ask, 'Why companies?' He'd say, 'Oh, I have several so that I can keep [the workforce] under 50.' We have to review our labor code."
While polls show job creation and the economic crisis are the top issues for voters in the May 5 second-round vote for president, neither President Nicolas Sarkozy nor Socialist challenger François Hollande are focusing on Breton's concern. Companies say the biggest obstacle to hiring is the 102-year-old Code du Travail, a 3,200-page rule book that dictates everything from job classifications to the ability to fire workers. Many of these rules kick in after a company's French payroll creeps beyond 49.
Tired of delays in getting orders filled, Pierrick Haan, CEO of Dupont Medical (not to be confused with chemical company DuPont), decided last year to return production of some wheelchairs and medical equipment to France. The 150-year-old company, based in Frouard in eastern France, created 20 jobs making custom devices at a French plant—and will stop there. Faced with France's stifling labor code, Haan probably will send any additional production of standard equipment to what he calls "Near France"—Tunisia, Bulgaria, or Romania. "The cost of labor isn't the main problem, it's the rigidities," Haan says. "If you make a mistake in your hiring plans, you can't correct it."
There are now 2.9 million people out of work in France, almost 10 percent of the workforce and the most in 12 years. "For the 100 employees we have in France, we have 10 employee representatives, for whom we have to organize weekly meetings even when there is nothing to discuss," Haan says. "Every time a social security contribution changes, which is frequently, we have to update software and send our HR people for training. We can't fire anyone without exorbitant costs."
The code sets hurdles for any company that seeks to shed jobs when it's turning a profit. It also grants judges the authority to reverse staff cuts years after they're initiated if companies don't follow the rules. The courts even deem some violations of the code a criminal offense that could send executives to jail.
Software maker Viveo Group, an arm of Geneva-based Temenos Group, began the required talks with the workers' council in February 2010 because it wanted to cut about a third of its 180-member staff, according to court records. Viveo offered employees a voluntary departure plan in June of that year as the council dragged its feet on evaluating the earlier proposal, court records show. The workers' council then went to court to block the cuts. It won a ruling against the original plan in January 2011 on the grounds that Viveo was forecasting an 18 percent increase in sales, meaning its future didn't depend on the layoffs. France's highest appeals court is reviewing the decision and is expected to rule on May 3. "What holds back hiring in France is the lack of clarity on how to legally cut jobs," says Déborah David, a labor lawyer at Jeantet Associés in Paris who has followed the case. If the decision is upheld, Viveo will have to take back the workers and hand over two and a half years in back pay, she says.
When courts don't intervene, politicians often do. After the owners of the Lejaby lingerie factory in Yssingeaux won court approval in January to fire about half their 450 employees in France and shift production to Tunisia, the company found itself thrust into the center of this year's campaign. Sent by Hollande to visit the plant, Socialist legislator Arnaud Montebourg told the workers they "symbolized the situation of the country." He promised his party would work to bring back jobs that have gone abroad over the past decade if it won the election. Sarkozy vowed to save the plant and took credit for orchestrating its takeover by LVMH Möet Hennessy Louis Vuitton, which is converting it to leather goods production.
Hollande makes no mention of labor regulations in his platform, which seeks to generate jobs through tax incentives and government hiring, such as creating 60,000 new teacher posts. He said on April 25 that if elected he would act to counter "a parade of firings" expected after the election: Companies may be holding back job cuts until then to avoid drawing political heat.
Worker groups say the code itself isn't the issue. "If the code is complicated, it's because our society is complicated," says Bernard Vivier, director of the Higher Institute of Labor in Paris, which studies labor relations for unions and companies. "Cars are much more complicated today than they were 40 years ago. Why shouldn't the labor code be?"
Before it's here, it's on the Bloomberg Terminal.
LEARN MORE