business
The Philippines Astounds the Skeptics
The sick man of Asia starts showing signs of health
By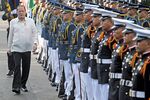 Maulik Parekh, chief executive officer of Philippine outsourcing services company SPi Global, has a message for local workers accustomed to looking for work overseas: There are jobs at home. Manila-based SPi Global's 18,000 workers handle customer support, technical problems, and other tasks for overseas clients. SPi last year starting hiring local health-care professionals to help U.S. hospitals get payments from insurance companies. SPi's doctors and nurses "are pursuing careers in the Philippines instead of moving to other countries," says Parekh. The outsourcing growth is giving a boost to the local economy, he says. Philippine outsourcing firms took in $11 billion last year and are on track to hit $25 billion by 2016.
The Philippines has long stood out in Southeast Asia as a consistent underperformer, its economy weighed down by a legacy of graft and instability dating back to the bad old days of Ferdinand and Imelda Marcos. The economy grew just 3.75 percent last year, while China expanded 9.2 percent and India 7.3 percent. What growth the Philippines has enjoyed has often come from its army of construction workers, domestic helpers, and others who have left the country to find work. Remittances from Filipinos living overseas grew 5.8 percent in February, the central bank announced on April 16.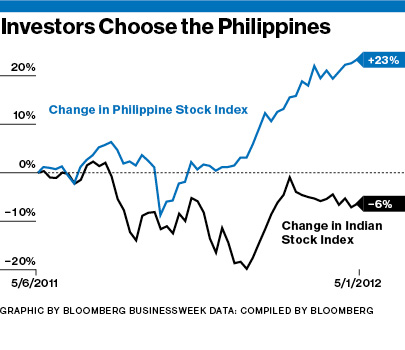 The shift in fortunes is most obvious in the $6 billion in foreign direct investment the country attracted last year—low by Chinese standards but a 15-year high for the Philippines. Powered by demand for electronics made locally by Toshiba, Texas Instruments, and others, exports in February jumped 14.6 percent, to $4.43 billion, the government announced on April 12. Foreign reserves, just $37.5 billion in 2008, are now at $76 billion.
President Benigno Aquino's government has made progress getting the Philippines' fiscal problems under control, with the budget deficit as a percentage of gross domestic product shrinking from 3.7 percent in 2009 to just 1 percent last year, according to Bloomberg Brief economist Tamara Henderson. That puts the Philippines budget deficit at the same level as Germany's and far better than India's alarming 7.3 percent.
Investors have taken note of the progress. Ratings companies have upgraded the country's sovereign debt, and the stock market is just behind Thailand in Asia so far in 2012. The Manila exchange's benchmark index is up 19.6 percent, versus 12 percent for the MSCI Emerging Markets Index.
Much of the credit for the good feeling should go to Aquino and his efforts to tackle corruption and improve the country's infrastructure. His administration has worked to make the bidding process for public works more transparent. For instance, the government announces winners immediately, which prevents others from quietly and quickly paying officials to change horses. Last December the government even took to Twitter to get the news out right away that Ayala had won the bid for a Manila highway project. When Aquino's administration started in mid-2010, "everything changed," says Henderson. "This starts to create a virtuous cycle."
Economists praise a $16 billion program to improve the country's railroads, airports, and highways as well as programs to provide vaccines and build more elementary and high schools. The Philippines is benefiting from "a popular government that is seen by many as committed to improving governance and reducing poverty," the World Bank said in a March 19 report.
To see just how much difference a government can make in an emerging-market economy, compare the Philippines under Aquino with the region's—and the world's—largest democracy, India. The coalition government of Prime Minister Manmohan Singh is struggling after a series of corruption scandals and legislative failures weakened Singh's coalition. The trade deficit rose to a record $184.9 billion for the fiscal year ended in March 2012, and exports fell in March for the first time in two and a half years, the Indian government announced on May 1. Standard & Poor's said on April 25 that it had revised its outlook on India's long-term rating—which had been stable—to negative. According to S&P, there's a 1-in-3 chance of a downgrade to India's BBB- sovereign credit rating. "India is all about homegrown, self-inflicted injuries," says Rajeev Malik, senior economist in Singapore with CLSA Asia-Pacific Markets.
The Philippines could yet succumb to homegrown problems, too. Expected GDP growth of 4.2 percent this year and 5 percent in 2013 is nice but still lags behind many of the country's neighbors. Unemployment, above 7 percent, is high by Asian standards, and even with the recent upgrades, the ratings companies still keep Philippines debt below investment grade status. As wages rise in China, the Philippines has a chance to attract investment from companies looking for low-wage alternatives, but the country's notorious culture of bribery remains a major obstacle to growth, says Rajiv Biswas, chief Asia economist for IHS Global Insight in Singapore. Right now, though, the government seems determined to change that culture.
Before it's here, it's on the Bloomberg Terminal.
LEARN MORE