The Office Phone Booth
The fast-vanishing street fixtures make a comeback as workplace accessories
By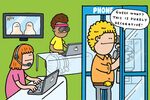 Nobody actually uses the telephone booth in the lobby of Cincinnati advertising agency Creative Department unless they want to pull a prank. "There's a pay phone across the street from our office building," says Steve Deiters, the firm's partner and creative director. "If we look out the window and see someone walking by, we'll call them from our phone booth. It completely weirds them out."
When Creative Department's clients ask to use a phone, they're directed to the silver-and-blue relic with the Bell System logo still on it, which some thoughtful employee has accessorized with a Superman costume. "It's a hoot," Deiters says of the booth. "But it doesn't really have a purpose."
Cell phones have all but eliminated the need for pay phones, but telephone booths are enjoying a second life as a quirky, retro addition to workplace décor. They offer a few square feet of privacy, presumably to make personal calls on one's cell. There is a booth—also draped with a Superman costume—in Facebook's new Menlo Park (Calif.) headquarters. AOL Ventures has a vintage red London phone booth in its loft-like Manhattan office. So does the Plymouth Meeting (Pa.)–based firm Bailey Brand Consulting, to match the 1960s London double-decker bus parked in its lobby. Philadelphia co-working space IndyHall lets people make private phone calls from its 1940s booth (although the door doesn't close).
Old phone booths are popping up on EBay and in flea markets as they disappear from American streets. From an estimated 1.8 million in 1989, pay phones have decreased to fewer than 450,000 today. Verizon Communications owned many of them until October 2011, when it sold them to a small California company called Pacific Telemanagement Services (PTS). Of those, how many are actual three-walls-and-a-door phone booths? "I don't even know. Definitely less than 10," says Angie Avila, a PTS representative. In New York City there are only four outdoor public phone booths left, all of them on the Upper West Side.
A vintage booth can cost anywhere from several hundred to $6,000, but you can always build one from scratch. True to their mission, arts-and-crafts website Etsy hired a couple of artists to build three booths for its Brooklyn offices: a fake London booth with a Dr. Who theme, an overstuffed plush one, and one designed to look like a villain's evil lair. In the company's open space, where only three people have landlines, the booths are much appreciated. Says Etsy spokesman Adam Brown, "We use our phone booths every day."
Before it's here, it's on the Bloomberg Terminal.
LEARN MORE