Numero Group: Soul Revivers
Numero Group gives you a reason to collect records again
Duff McDonald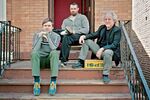 In the taxonomy of the music industry, they are known as "crate diggers"—music obsessives who thumb through endless cartons of vinyl records in search of overlooked gems. The best DJs have always been crate diggers. The late Ahmet Ertegun, legendary founder of Atlantic Records, could scavenge with the best of them. And crate diggers are behind one of the most intriguing music labels operating today, the Chicago-based Numero Group.
In an industry struggling to stay afloat, Numero is an anomaly: It's a growing and profitable record company. Dedicated to unearthing lost musical treasures—primarily in the realms of soul, funk, and gospel—the eight-year-old label has amassed legions of devoted fans, including rocker Robert Plant, author Michael Chabon, and actress Zooey Deschanel. Numero, which grossed more than $1 million in 2011, has a grand ambition that belies its modest size: to be the world's greatest reissue label.
It's fitting that a record label that relies on serendipitous discoveries was founded by chance. Ken Shipley, 34, a former talent rep for Salem (Mass.)-based reissue label Rykodisc, met Rob Sevier, 33, whose résumé includes a stint at Merge Records, at a Sharon Jones & the Dap-Kings concert in 2002. Around the same time, longtime advertising executive Tom Lunt, 60, who had previously logged time at record chain Sound Distributors, bumped into Shipley at a record store. Then they crossed shopping carts in a grocery store. Following those random encounters, the three discussed the idea that became Numero. In an effort to retain complete control, the co-founders decided not to solicit outside investors, instead relying on $23,000 of Lunt's personal savings to get things going.
Numero's goal is to do the discovering for its customers—who need only to discover Numero. "We wanted to make records that were collectible but also accessible to a normal record buyer," says Shipley. "You didn't have to have deep pockets or knowledge of some obscure record store. You could create your own library of obscure records through us."
Ahmir "Questlove" Thompson, drummer for hip-hop powerhouse (and Jimmy Fallon house band) The Roots, happened onto Numero through his own crate digging at legendary Los Angeles record store Amoeba Music. "I heard this guy singing some uplifting words on their playlist," he says. "I asked them who it was, and they told me it was Bill Moss singing Sock It to 'Em Soul Brother." Moss is a former DJ who founded Ohio's long-forgotten Capsoul label in the early 1970s. Numero's first release was a Capsoul showcase. "Within a few weeks, I'd bought every one of Numero's releases. I consider anything they put out to be a choice investment. And I usually buy three or four of each, knowing that two or three people will ask for one—mostly my guitar player."
The label has spawned a number of sub-labels, including Eccentric Soul (small soul and funk labels), Cult Cargo (foreign), Good God! (born-again funk), Local Customs (various music scenes), and Wayfaring Strangers (folk). While the music differs, the approach remains the same—to discover, compile, and package for posterity not just lost music but the story behind the music as well. And while the Capsoul release remains the label's biggest seller at nearly 30,000 units, Numero regularly churns out 10,000-plus sellers. Recent standouts include Lou Ragland: I Travel Alone, Syl Johnson: Complete Mythology, Boddie Recording Company (another Ohio label), and Eccentric Soul: The Nickel & Penny Labels (from Chicago).
Numero operated at first out of a floor of Shipley's house, and it has continued to avoid such traditional industry trappings as big glass doors and in-your-face logos. After losing $400 in 2003, the top line has risen steadily—from $99,000 in 2005 to $1.1 million in 2011. Numero's partners eschew large bonuses in favor of plowing profits into the research and manufacturing costs of future releases, which remain absurdly low when compared with the millions spent on agents, studio time, and star pampering for big labels' higher-profile projects. The typical R&D tab for a Numero release is just $11,500, while the overall bill tops out at $50,000. The label makes just 5,000 CDs and 3,000 vinyl records in the first manufacturing run of each release.
Numero adds its own value to the music in the form of exhaustively researched liner notes and sleek presentation. "They didn't invent the idea of being 'completionist' archivists, but they have pretty much perfected it," says Oliver Wang, a sociology professor at California State University at Long Beach and Soul-Sides.com music blogger. "They want to talk to the people who made the music, the people in the engineer's booth that day. They want a full picture: how it's made, who makes it, where it's made."
Such efforts have appealed to casual listeners and industry professionals alike. "I respect Numero because they do everything right," says multiplatinum-selling music producer and songwriter DJ Shadow. "They handle their business so that the artists, many of whom were victimized on their first go-round, have a positive music-industry experience. When I first saw the Syl Johnson box, I just exhaled and thought, 'Wow.'"
While the aim of Warner Music or Universal is to sell millions of records, Numero's founders insist their goal is merely to make a profit on each record in order to fund the next one. They consider their efforts urgent because the musicians in Numero's wheelhouse—'60s soul and funk artists—are aging. "I'd like to be a privately held Smithsonian with a large acquisition department that's saving music before these people start dying out," says Shipley. "We'd love someone to give us $10 million to buy it all now and figure out how to monetize it later. But we understand that's not a great business plan."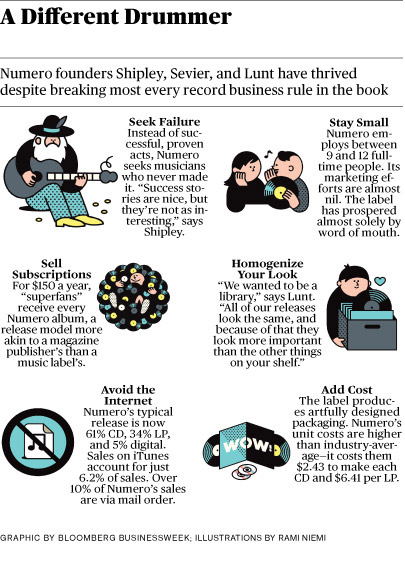 Before it's here, it's on the Bloomberg Terminal.
LEARN MORE