pursuits
Must-See YouTube
The video site bypasses Hollywood with a $100 million fund to produce professional content
By and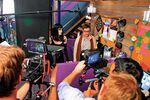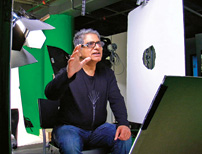 In an industrial area south of downtown Los Angeles, 15 miles and a world away from the back lot of Hollywood mega-studio Warner Bros., Gotham Chopra is figuring out how to digitally insert Luke Skywalker onto a green screen. Chopra, son of spirituality author Deepak Chopra, sits in a small studio recording Holy Facts, a series of two- to four-minute videos that will guide viewers through some of the more unlikely aspects of the spiritual sciences. One episode will explain why some children believe they can recall events from past lives. The episode he's recording will explore the trend of people telling census takers their religion is Jedi.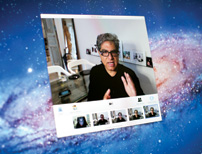 Chopra acknowledges that the show, which is funded by YouTube and will make its debut on the site in July, would have struggled to find a home offline. "If I had ever pitched that concept anywhere in town, they would have kicked me off the lot," he says. But niche content is welcome on the long tail of the Internet. "If we do our job right, there's no reason that video content can't get hundreds of thousands or millions of views on YouTube," Chopra says.
Holy Facts is only one sign that YouTube, like the Chopras, is searching for greater meaning. Late last year, Google's video-sharing site announced it would spend $100 million to support video programming. YouTube is funding filmmakers, artists, writers, and proven online hitmakers with grants that range from a few hundred thousand to a few million dollars. It will eventually have about 100 new channels, including the Chopra Well, which will feature 10 spirituality-themed shows. By building a library of professionally produced programming that is closer to Charlie's Angels than to "Charlie Bit My Finger," Google hopes to attract more viewers, reduce the need to negotiate with Hollywood studios, and woo some of the big-name advertisers who have been reluctant to put their products next to cat videos.
On May 2, Google made its first appearance at the annual TV industry ad sales ritual known as the upfronts, where YouTube revealed its progress since announcing the funding. Executives said they'd signed up filmmakers such as Black Swan producer Jon Avnet, actors like Amy Poehler and Rainn Wilson, and rapper Jay-Z to create channels. By the end of July, the company says, there will be 25 hours of new original content on YouTube each day. "People are spending more and more time here," says Robert Kyncl, vice president and global head of content partnerships for YouTube, who joined Google from Netflix in 2010. "If you are an advertiser trying to reach people, this is the right place to be."
YouTube's competitors also are focusing on original, Web-exclusive content to lure viewers and advertisers—and to get around the major studios that produce most of the nation's entertainment. Netflix is streaming its mob drama Lilyhammer and has new shows in the works from The Social Network director David Fincher and Weeds creator Jenji Kohan. It also bought the rights to new episodes of the cult TV hit Arrested Development. Hulu is producing a faux-documentary sitcom, Battleground, set in the world of Wisconsin politics. The creative development arm of Amazon.com, Amazon Studios, recently said it would start soliciting ideas for children's and comedy programming and back the best proposals.
YouTube, the dominant online video site with 181 million monthly visitors in the U.S., may have the most to gain. For years the site has tried to secure studios' permission to stream Hollywood material on the Web—and has little to show for it other than a slow-moving copyright lawsuit brought by Viacom. "We could have bought their content and given them deals that were good for them and lost a large amount of money," says Google Executive Chairman Eric Schmidt. "That is not how Google works." James McQuivey, an analyst with Forrester Research, says the channels venture is "nothing less than the circumvention of the monopoly control" Hollywood has over premium content.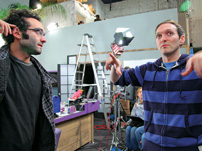 YouTube is betting there's an entire class of material that might languish on cable but will find an audience on the Web. Avnet is teaming up with Rodrigo García, a writer behind the HBO series In Treatment, to launch a channel called Wigs that will feature short films of five to seven minutes each—not a natural length for traditional TV—about the life of women. The videos will feature a long list of well-known actresses such as Jennifer Garner, Virginia Madsen, and Julia Stiles. Among the videos produced by the Chopras will be Spiritual Solutions, in which Deepak will answer questions from his flock, and Sages and Scientists, a long-format show in which he will have in-depth conversations with doctors and physicists about the intersection of spirituality and science. "On cable there's a lot of pressure to build an audience quickly," says the younger Chopra. Online, you can experiment, build audiences slowly, and attract advertisers to small but passionate blocks of like-minded viewers.
The big question is whether advertisers will come to the party and how much they will spend. Google releases little information about YouTube's financial health, but it's been steadily working to migrate ads from the margins of its pages and into actual videos. Its ad system, called TrueView, allows viewers to skip an ad after the first few seconds. Hulu, by contrast, allows viewers to choose the ad they want to watch, but they can't skip watching altogether. YouTube says its users choose to watch an ad between 15 percent and 45 percent of the time and argues that this is great for advertisers, because they pay only when someone actually tunes in to the ad. (Though Google does not publicize it, a "watcher" could be someone who is simply checking his e-mail in another browser tab, waiting for the ad to end.) Kyncl notes that viewers increasingly can zap their ads on traditional TV as well.
Others in the online ad world aren't so sure big brands can get comfortable with this kind of consumer control, despite YouTube's push into premium programming. "Google is still thinking about it from a performance marketing standpoint, which is how they grew to be as big as they are," says Jayant Kadambi, chief executive officer of video-ad serving company YuMe. He's referring to Google businesses such as AdSense, where advertisers pay only when someone clicks on an ad. The "brand business," where advertisers want to get their messages before large, captive audiences, "is different," he says. Advertisers such as Toyota, AT&T, and General Motors have already pledged up to $10 million apiece to advertise alongside YouTube's new content. Google's challenge will be to make sure they stick around.
Before it's here, it's on the Bloomberg Terminal.
LEARN MORE