business
India's Plague of Knockoffs
Big marketers battle lookalikes as sales in the countryside boom
By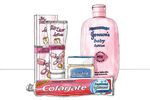 Sunita Kumar, a factory worker's wife in the Indian village of Hazratpur, has added talcum powder and face cream to the small vanity case she uses for weddings and festivals. She doesn't know they're fakes.
Sitting cross-legged on the rough cement floor of her home, head covered by a red and green sari, Kumar confesses she can't read the label on her tube of Fairy Love lotion, an imitation of a popular brand called Fair & Lovely from Unilever Group. The packaging on the powder is virtually identical to that of BoroPlus, made by Emami Group, except the brand name has been tweaked to BoroLiv+. Both products were purchased by Kumar's husband, who is also illiterate. Satish Kumar earns about 5,500 rupees ($107) a month working at a hand-pump plant but says he doesn't mind paying extra for "good company" brands: "Even if it is more expensive, I get a good product."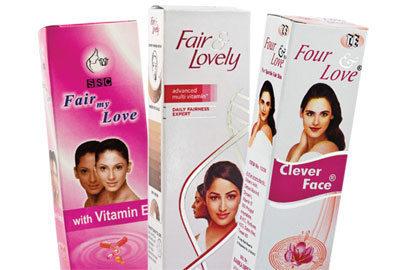 Places like Hazratpur, a village of 2,500 in the northern state of Uttar Pradesh that is home to farmers, electricians, and masons, have become battlegrounds for marketers in India. Sales of consumer goods in rural areas, where 69 percent of the country's 1.2 billion people live, are expected to grow tenfold, to $100 billion by 2025, according to Nielsen. The majority of villagers, like the Kumars, can't read, and that makes them easy marks for counterfeiters.
The Federation of Indian Chambers of Commerce and Industry (FICCI) estimates that 10 percent to 30 percent of the cosmetics, toiletries, and packaged food products sold in the country are fakes. "It's a huge loss to the companies in the sense that they spend so much money building these brands," says Saroj Kumar Mohanta, a partner at MART, a consulting firm in New Delhi. Hindustan Unilever, the local subsidiary of the Anglo-Dutch company, spent $51 million on advertising and promotions in the 12 months ended March. U.S. rivals Colgate-Palmolive and Procter & Gamble also are putting money behind their brands of mouthwash, shampoo, and detergent to reach consumers in the countryside.
Imitation products "impact revenue of genuine companies," Hindustan Unilever said in an e-mailed statement. The company, which dominates the beauty and personal-care market with a 33 percent share, according to Euromonitor International, has seen an increase in lookalikes of its leading brands. Hindustan Unilever says it conducts market surveillance and provides information to authorities, helping them seize fake goods valued at almost $11 million in 2011. Since 2000, the company has also been employing rural women as brand ambassadors who travel to sell directly in nearby villages. Emami, in a statement, said the Kolkata-based health and beauty company is battling piracy by constantly innovating on packaging and trying to educate mom-and-pop retailers on identifying fakes.
Many small store owners are knowing accomplices in the counterfeit trade, according to Anil Rajput, chairman of the FICCI's committee on smuggling and counterfeiting. While knockoffs are less costly to produce, they can sell at the same price as the regular brand, offering retailers and manufacturers a higher profit margin, Rajput says.
On a recent Friday afternoon in Hazratpur, women crowded around a small temporary shop set up under a tree, where a man laid out merchandise that included creams, earrings, hair clips, and lipsticks on a faded blue sheet. The salesman, who wouldn't answer questions, offered his customers "Voroline," an imitation of Unilever's Vaseline brand. Also laid out on the sheet were tubes of "Fair & Gomarks" cream that, like Sunita Kumar's tube, is an imitation of Fair & Lovely.
Before it's here, it's on the Bloomberg Terminal.
LEARN MORE