Discovery's Oprah Problem
Discovery bankrolled the talk diva's cable channel. So far OWN's losses may exceed $330 million
by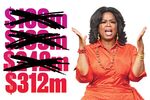 Oprah Winfrey stood before advertisers and media executives in New York last month and offered a humble assessment of her effort to create OWN: Oprah Winfrey Network. Despite her popularity, the new cable channel attracts less than a 10th of the audience her syndicated TV show used to pull in. "I am in the climb of my life," Winfrey told the crowd. "I am climbing Kilimanjaro, and it's all on Wilshire Boulevard at the OWN offices."
While the public spotlight has focused on the travails of the onetime queen of daytime talk, the uphill climb has been no less torturous for David Zaslav, chief executive officer of Discovery Communications, Winfrey's partner and half-owner of OWN. Winfrey's gold-plated brand has been tarnished by the network's slow start, but Zaslav's bank accounts may have suffered even more. Discovery, owner of cable's TLC and Animal Planet networks, put up the cash for Winfrey's network, and so far it hasn't been a winning investment. From its 2008 inception through Dec. 31, OWN may have lost as much as $330 million, based on Discovery's annual 10-K filing with the Securities and Exchange Commission. Even if OWN makes money in 2013, as predicted by a person with knowledge of the operation who was not authorized to speak publicly, it has saddled Discovery with such high costs that analysts say the company may eventually be forced to write off some of its current $420 million investment.


They're "not at that point yet, but it's probably rapidly approaching," says accounting and tax consultant Robert Willens. OWN, adds David Bank, a media analyst at RBC Capital Markets, is the most "successful failure in television today." Winfrey and Zaslav declined to comment for this story.
Discovery has poured at least $585 million into OWN. It contributed the Discovery Health Channel (OWN took its slots on cable systems), which it valued at $273 million, as its equity stake and loans and interest of $312 million, according to the SEC filing. (OWN's borrowings from Discovery have tripled since the venture was formed.) The lower $420 million investment value Discovery noted in its yearend filing suggests its share of the OWN loss is $165 million and growing.
This year, according to Discovery's filing, "the company expects operating losses at OWN to exceed the balance of equity contributions recorded by OWN," which included the channel and an "equitable" contribution from Harpo Studios, Winfrey's production company. Media researcher SNL Kagan estimates that loss will be $143 million, a figure the company calls inaccurate.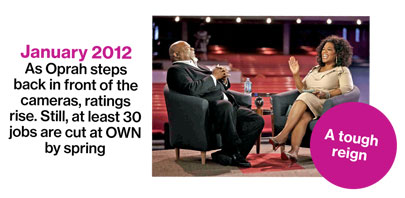 OWN debuted in over 77 million homes on January 1, 2011, but its initial ratings were surprisingly lackluster given its imprimatur as "Oprah's network," averaging just 308,000 daily viewers in primetime in its first three months on air, according to Nielsen. OWN's ratings rose 5.8 percent in the first quarter of 2012, to 326,000. Oprah's Next Chapter, a program in which the talk diva interviews and interacts with guests in a format more like a news program, averaged 393,000 viewers in the most recent quarter, according to Nielsen. The channel is now available in more than 85 million households, 10 percent more than at its debut.
Marketers are still enamored of Winfrey and will give the network more leeway than they would others, says Brad Adgate, head of research at media-buying firm Horizon Media. "Advertisers still want to be a part of Oprah's brand," Adgate says, adding that Discovery could bundle OWN buys with its other networks. "It's not a four-alarm fire yet as far as marketers go," he says.
When starting a network, media companies typically lure advertisers after building an audience. OWN drew high-profile advertisers such as Procter & Gamble and Kohl's first. "Now they're trying to build an audience," Bank says. "Advertisers will only wait so long for that audience to come."
Executives were counting on using a library of shows from Discovery Health to keep OWN's costs low. That backfired, according to the person with direct knowledge of the operation, when programming such as Plastic Surgery: Before & After didn't appeal to viewers tuning in for Winfrey's signature mix of uplift and self-empowerment. OWN executives then scrambled to fill 160 hours of weekly airtime with mostly new shows, an unforeseen—and costly—turnabout.
Discovery Communications was forced to increase its initial $100 million loan to $189 million two years after announcing the formation of the network in 2008. By June 2011, Discovery had increased its loan commitment to $242 million. Last May, Discovery and Harpo fired OWN Chief Executive Christina Norman. Discovery in December 2011 brought some of OWN's corporate functions, such as human resources and benefits management, in-house to control costs. In March, Neal Kirsch, chief financial officer for Discovery's domestic networks, became OWN's chief operating officer, joining co-Presidents Erik Logan and Sheri Salata, who moved from similar jobs at Harpo.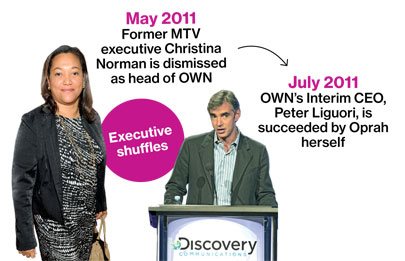 OWN has reduced its staff by at least 30, from a high of 150 last year, and canceled Rosie O'Donnell's The Rosie Show, part of a slate of programming the company may write off, according to the person with knowledge of the situation. The cuts will save as much as $50 million this year, say two executives with knowledge of the matter who declined to be identified because they are not authorized to speak publicly. They said that new contracts with cable operators, such as one it signed last month with Comcast, will also bring OWN an average of about 20¢ a month for each pay-TV subscriber starting next January, an increase in most cases. That should allow it to record profits next year, they say.
That's why Discovery executives say they remain upbeat about OWN's prospects. "If we grow a meaningful audience that wants to spend time with OWN, and we think that we will," Zaslav said in a February investor call, "this will be a very significant asset."
Before it's here, it's on the Bloomberg Terminal.
LEARN MORE