China's Soccer Moms Want SUVs, Too
Sales of sport utilities are growing three times faster than cars
Bloomberg News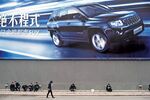 Zhou Na, a 37-year-old Beijing mother, knows firsthand why sport utility vehicles are the fastest-growing segment in the world's biggest automobile market: kids. "I have to drive my kid around practically nonstop on Saturday," says Zhou, who ferries her 8-year-old son to the Children's Palace of Beijing for kung fu and English classes on weekends before joining friends for yoga. "It's pretty tiring, but I feel very good driving my BMW X5 around."
Zhou represents the growing army of so-called tiger moms who may fuel the next spurt of growth for the auto industry in China. BMW, Ford Motor, and Daimler's Mercedes-Benz are among carmakers rolling out SUVs aimed at families looking for a second vehicle to carry children and groceries. "You look at the trend for more utility and family-oriented vehicles, and behind that is women," says Bill Russo, a senior adviser at Booz who formerly headed Chrysler Group's China operations. "In the U.S., we call it the soccer moms."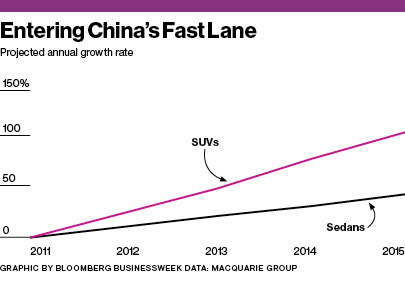 SUV demand in China jumped 20 percent last year, more than triple the growth in total passenger-car deliveries, according to data from the China Association of Automobile Manufacturers. SUV demand continues to outpace growth of other types of vehicles, with sales up 18 percent in the first quarter, bucking the slump in the broader Chinese market, where deliveries fell for the first time since 2005.
Growing prosperity is driving SUV sales. China's middle-class population will reach 600 million to 800 million in the next 10 to 15 years, compared with about 300 million now, according to investment bank Macquarie Group. The average Chinese consumer earns more than $4,000 a year, crossing a threshold that Macquarie researchers say typically spurs car purchases to increase at twice the pace of income growth. "A car parked outside follows on the heels of homeownership as part of the middle-class Chinese dream," wrote Macquarie analyst Janet Lewis in a report published in February.
As in the U.S., women in China are particularly drawn to the flexibility of sport utilities. "For tiger moms—and other moms—SUVs offer great appeal as the whole family can be transported safely and in style," says Trevor Hale, a Shanghai-based spokesman for Ford, using the nickname coined by American author Amy Chua for demanding Chinese mothers. "We see great potential to grow this segment and are bringing more of our SUVs to China." Ford currently sells the imported Edge SUV in China and plans to build its Kuga compact SUV, aimed at families with a small child, at a new plant in Chongqing.
BMW, whose X-series SUVs surged 92 percent in the first quarter, to more than 20,000 vehicles, in late April unveiled its new X3 xDrive28i and revamped X6 at the Beijing auto show. Porsche showed an updated version of its Cayenne luxury SUV, which accounts for half its total production. Maserati exhibited its new Kubang, expected to start production in 2013, and even Volkswagen's Lamborghini super-car line unveiled an SUV concept vehicle at the Beijing show. "Automakers are swooping in with SUV models, even those that never had SUV models before," says Zhang Zhiyong, an independent automotive analyst based in Beijing.
That doesn't deter Mercedes-Benz, which last week unveiled its China-built GLK sport utility. The Daimler luxury unit boosted SUV sales in China by 85 percent last year, while its total sales in the country rose 35 percent.
Hui Yumei, head of automotive research at Sinotrust International Information & Consulting (Beijing), says demand for SUVs will continue to grow as more families buy second cars. "SUVs will be the most important segment for automakers in China for a long time," says Hui.