Power Brokers on Robert Caro's 'The Power Broker'
Keenan Mayo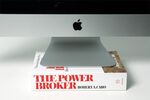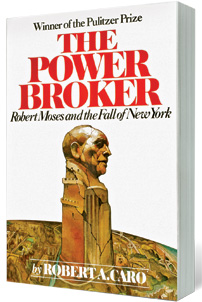 Unless you've been off the grid for all of April, you're probably aware of the fact that author and historian Robert Caro just published The Passage of Power, the fourth volume in his giant, omnibus biography of President Lyndon B. Johnson. All told, his writing about LBJ, which he's been toiling away on since the 1970s, has reached 3,388 pages in length. As some have remarked, he's spent more time writing about periods of LBJ's life than the tall Texan spent living them.
No personal library in New York, however, seems complete without Robert Caro's first hefty work—his monumental biography of the larger-than-life urban planner Robert Moses, The Power Broker: Robert Moses and the Fall of New York—on prominent display. The paperback edition, with its thick, unmistakable red-and-white spine, is 1,344 pages long. It weighs around four and half pounds. Published in 1974, it was a recipient of the Pulitzer Prize. More than 300,000 copies of the book have been sold over the course of 30-plus printings, according to the publishing house Knopf.
But the question remains: Who has actually read all of The Power Broker?
Bloomberg Businessweek sent out a simple questionnaire to some real New York power brokers, media personalities, literary fixtures, politicians, and others to see if they've actually read it. Here are some of the responses.
The Power Broker Questionnaire
Lloyd Blankfein
CEO, Goldman Sachs
Have you read it? "Yes."
How long did it take? "On and off over a year."
Where is your copy? "In my home. But not the copy I read. I read a paperback edition, which I sliced twice along the spine, so I could carry a third of the book at a time. It's the only time I intentionally harmed a book. When I finished, I bought a new hard copy version, which is displayed on my bookshelf as a trophy of my endurance."
Thoughts? "I learned a lot about my home, NYC, and more generally, what it takes to get things done. I think I liked Robert Moses more than the author wanted me to."
Brian Williams
News anchor
Have you read it? "Yes."
How long did it take? "About three weeks."
Where is your copy? "On the bookshelf in my den at home. It's one of those books in my life that I could lead a visitor to while blindfolded. It's as much a part of the den as the couch."
Thoughts: "The Power Broker lives in me every day, mostly because it feeds a current obsession of mine: figuring out how we have lost our way and our priorities. Each day in New York City we drive on, look at, live with, or otherwise use the creations of Robert Moses. While his methods and motivations were often deplorable, he transformed the city. The unfettered power of Robert Moses should never again reside with one individual. By the same token, a small percentage of his vision and drive would be welcome right about now."
Lewis Lapham
Editor-in-chief, Lapham's Quarterly
Have you read it? "No."
Why not? "I was too often trapped in the traffic patterns that Moses had set up in and around New York City, and I was afraid that the knowing of more than was necessary about their provenance might lead to my arrest for having committed a criminal form of road rage. I am, however, currently reading Caro's The Path to Power, which I find to be so well and truly written that it restores my faith in the power of the human imagination."
Liz Smith
Columnist
Have you read it? "Yes."
How long did it take? "Big books don't daunt me. I am a fast reader."
Where is your copy? "On a shelf in my bedroom."
Thoughts: "I confess I didn't [read it] until I became aware that Robert Caro was doing a massive work on Lyndon Johnson. I am a rare thing, a true Texas-born liberal who believes in big expansive government. Though I think LBJ was a crook and power mad and ego driven, I have forgiven him everything because once he got in the White House, he accomplished things for the nation. So the same applies to Robert Moses, who reads like a dictator and autocrat. But today New York is still standing, and much of it works thanks to Moses. … Bravo to Caro!"
Ed Koch
Former mayor of New York
Have you read it? "Yes."
How long did it take? "It took several weeks."
Where is your copy? Doesn't own one.
Thoughts: "I agreed with the critics then and now that the book was seminal and superb, and that Caro is a genius. Caro and many readers, myself included, concluded that Moses, despite his many accomplishments, had, by his imperious decisions, injured the urban landscape. With the passage of time, many, certainly me and I think Caro, came to the conclusion that the Moses era was, in fact, positive and extraordinary in accomplishment."
Gary Shteyngart
Author
Have you read it? "No, but I will once I retire in 25 years or so."
Where is your copy? "The book is proudly displayed on the most visible part of my home shelves to make people believe that I have read it."
Thoughts: "Reading the back cover and looking at some of the photos has been very exciting for me. When people ask if I've read it, I just sigh and say, 'Ah, Moses. Such a complex character.'"
Donald Trump
Real estate developer
Have you read it? "Yes."
How long did it take? "I read it intermittently over a two-month period, as I was also reading other things."
Where is your copy? "At Mar-a-Lago in Palm Beach, Florida."
Thoughts: "As a developer, I was very much aware of Robert Moses and his accomplishments, and as a child I liked going to Jones Beach. So I had a reason to be interested. It's a lot of reading, and certainly thorough, but I always find the subject of Robert Moses interesting."
James Franco
Actor, author
Have you read it? "I've read the beginning."
How far did you get? "I read the beginning because I was asked these questions and I have always been interested in Robert Moses."
Where is your copy? "It's currently in my trailer in New Orleans."
Thoughts? "I love the idea of tracing the biography of a city alongside the biography of a man. Planning a city's layout and executing it must be one of the most collaborative jobs possible. It involves art, but it also involves business, practicality, environmental considerations, lobbying, eviction, and faith. Caro's approach is entertaining because of the way he threads the personal and the work."
Before it's here, it's on the Bloomberg Terminal.
LEARN MORE