Coca-Cola Is Looking for Its Lost Norman Rockwell Paintings
By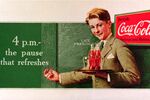 Coca-Cola wants its paintings back. The soft-drink company has launched a campaign to locate three Norman Rockwell oil paintings that it commissioned from the famous illustrator in the 1920s and '30s but which, between then and now, have somehow gone missing.
"Coke is very conscious of its heritage," says Ted Ryan, Coca-Cola's director of heritage communications. "In the 1960s we were one of the first companies to establish a corporate archives, and we now have 2,000 to 3,000 pieces of original Coca-Cola oil paintings in our collection. But somehow these three managed to slip away."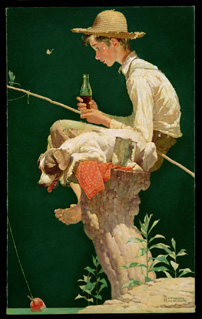 In 1928, Rockwell was already a well-known illustrator, most famous for his Saturday Evening Post covers, when Coca-Cola hired him to create several billboard and calendar ads. Back then, the advertising process worked like this: An artist would paint an actual oil painting and send it to Coke, which then shipped it to a printing company to be turned into a billboard or printed advertisement. When it was done, the company would return the original work to Coke.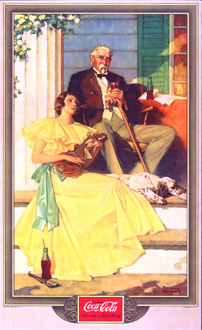 But Rockwell was so well-known that sometimes his pieces went missing. He completed six paintings for Coke from 1928 to 1935, only one of which, Out Fishin', the company successfully kept in its possession. Over the past decade or so, two more have found their way back to Coca-Cola thanks to the descendants of the people who originally sneaked off with them. One, Carry Me Back to Old Virginny, had been taken home by an employee; his grandchildren sold it back.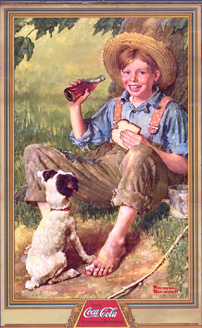 "The second call just came out of the blue," says Ryan. "The grandson of the president of the calendar printing company called us and said, 'Hey, we have this painting, we think it's real.'" Ryan says he receives calls like this all the time from people, but it usually turns out to be an extremely old print. This time, it really was a Rockwell original. "You could see the brush strokes and everything," he says. Coca-Cola won't disclose how much it bought the paintings back for, but a recent Antiques Roadshow segment on the Coke Rockwells appraised the works at $400,000 to $600,000 each, a number that Ryan says is "pretty close" to the real price. "Let's just say the family sent their kids through college with that painting," he said.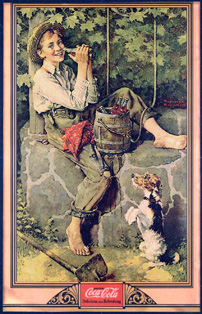 Of the three Rockwells still missing, two are print advertisements and one is from a calendar. They were all made between 1928 and 1932. "The calendar is probably just in somebody's house and they don't know they have it," says Ryan. "But the billboards are the two I'm worried about, because back then companies that produced them were not necessarily good at keeping the art after the fact." Coke's historians have searched through museum collections, auction catalogs, and the official Norman Rockwell archives, but found nothing. Ryan says he's starting to get worried. "We've looked everywhere," he says. "I would have thought that one of those two would have shown up already."
Before it's here, it's on the Bloomberg Terminal.
LEARN MORE