Women's Suits: The Perfect Fit Is Mostly in the Bust
By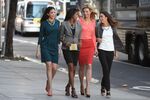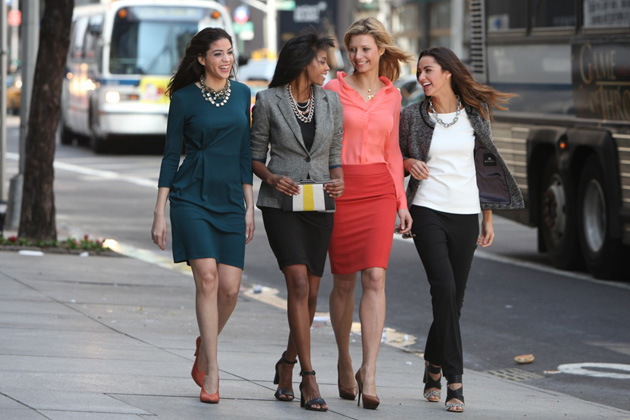 When Christina Wallace asks for your cup size, she's not being invasive. The 28 year-old Michigander is co-founder and chief executive of New York-based Quincy, a new brand of women's office wear that tailors clothing based on bra size and height rather than traditional size charts.
Six feet tall without her customary four-inch heels, Wallace normally wears a size six or eight, depending on the brand. At Quincy, she is a 36A/B Tall. Co-founder Alex Nelson, at five foot seven-inches, is a 34A/B Regular.
I've never boiled my body down to a bra size-height ratio, but Quincy believes this is how to make clothes fit. Maybe I'm just too embarrassed to think about breasts.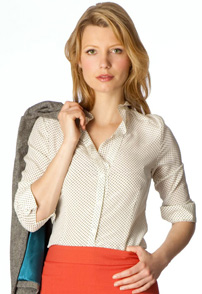 "Own it," says Wallace, who spends a lot of time pitching to male investors. To help explain women's bodies and sizing to them, "there's a lot of pointing, gesturing to my boobs," she says. They're not always sure if they should make eye contact or pay attention to her, ahem, demonstration.
It's a new way for consumers to think about sizing, although many women would agree that a new fit would be a welcome change in their office wardrobe, which likely includes such regrettable purchases as an unflattering boxy blazer, or a blouse that bunches up around the chest.
Quincy makes sizes for women who are traditionally size 00 to 16, with further sizes to be added. Their chart currently ranges from busts 32 inches to 40 inches, cups in A/B or C/D, and lengths in petite, regular and tall. All together, there are 30 possible jacket-size combinations, which means a more specific fit than a conventional garment affords. Their clothes are also cut with room on the bottom, as most women are one size larger on the bottom than at the top, Wallace says.
The company, which has five full-time employees, started selling jackets on its site on March 26. On April 30, it added blouses and dresses. During May, pants and skirts will be introduced to the line, which will feature a different sizing system.
Men have had suits tailored to them for a long time, says Wallace, while women have had only work suits tailored for the past 40 to 50 years. There's room for improvement—and maybe even greater sensitivity. What woman—or man—wants to be called "extra-extra large," anyway?
Still, with my bra size posted on the tag, I can't help but think I'd react defensively if a curious coat check attendant handed over my blazer with a wink and a smile.
Before it's here, it's on the Bloomberg Terminal.
LEARN MORE