Big Law Firms Still Rake It In, but Growth May Be Slowing
By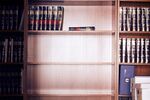 The recession and post-recession have not been kind to the big law firms that serve the nation's largest companies. The last few years have seen mass layoffs—sometimes even of partners. There have been consolidations, mergers, and the slow-motion decline of Dewey & LeBoeuf, itself the result of a merger of two old and respected New York law firms.
Last year turned out all right for most big law firms, according to the American Lawyer magazine's ranking of the U.S.'s 100 largest-grossing firms. Average gross revenue was up 5.3 percent and average revenue per lawyer—a standard measure used to compare the performance of law firms—was up by 1.9 percent. In other words, things could have been better, and they also could have been a lot worse.
But buried in the American Lawyer report are some signs that the profession is changing—and perhaps not for the better, if you happen to be part of that world. The magazine, which has been ranking law firms by revenue for more than two decades, looked at average revenue per lawyer for the 81 law firms that have stayed in the Am Law 100 for 25 years. From 1986 to 1998, the average annualized growth rate for that group of firms was 5 percent. From 1998 to 2011, it dipped to 4.2 percent. In an article accompanying the rankings, Indiana University law professor William Henderson says he sees a continuing "flattening out" of revenue per lawyer at big firms. He attributes that to companies relying on in-house lawyers, or turning to smaller law firms that tend to be cheaper to use.
For long-term legal observers, there were a few other noteworthy changes. The average number of non-equity partners at law firms jumped 5.7 percent, while the comparable number of equity partners rose only 1.4 percent last year. That means over time that fewer lawyers may share fully in the firms' profits. And a few major law firms have lost a little face this time around. Skadden, Arps, Slate, Meagher & Flom, which has topped the gross revenue rankings for all but four years in the history of the Am Law 100, came in third this year. Wachtell, Lipton, Rosen & Katz—like Skadden, long known for its takeover work—had the list's biggest gross revenue drop, at 4.8 percent.
That said, it's hard to get all teary-eyed for the two firms. Skadden's revenue was more than $2.1 billion in 2011, an increase of 3.1 percent over the previous year. And Wachtell topped the American Lawyer list for profits-per-partner, at more than $4.4 million.
Before it's here, it's on the Bloomberg Terminal.
LEARN MORE