The Eight Funniest Members of Congress
Julian Sancton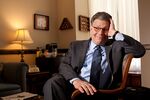 At the White House Correspondents' Association Dinner on Saturday, le tout Washington will pretend it is two things it's rarely accused of being: glamorous and funny. It will rely on such Hollywood stars as Charlize Theron and George Clooney for the glamour, and on speechwriters (and host Jimmy Kimmel) for the funny. But when the clock hits midnight, the Capitol will turn back into one fat, unfunny pumpkin.
There are, however, a handful of outliers—members of Congress who don't merely know how to deliver a joke (as Barack Obama has arguably done better than any president in memory) but also how to craft one on the spur of the moment. We've assembled the admittedly short list below. To analyze the comedy stylings of these Beltway yuksters, we called on Jeff Nussbaum of West Wing Writers, who is rumored to have written humor for everyone from Leon Panetta to Hillary Clinton.
Senator Al Franken (D-Minn.)
Franken established his comedic bona fides on Saturday Night Live and as a writer of scathingly satirical books. Since joining the Senate in 2009, however, he's gone out of his way to not make jokes, presumably in an effort to be taken seriously by the very men and women he once eviscerated.
Nussbaum: "Only in Washington could a guy who won three Emmy Awards for satire try to deliberately stifle his sense of humor. But that's what Washington's done to Al Franken."
Representatives Linda and Loretta Sanchez (both D-Calif.)
Younger sister Linda has been known to dabble in stand-up comedy, while Loretta's goofy holiday cards—which featured her cat Gretzky until he passed away in 2010—are said to be eagerly awaited in Washington.
Nussbaum: "In comedy, you hear about the Smothers Brothers and the Marx Brothers. The Sanchez Sisters are making a pretty solid run at that esteemed canon of sibling comedy. Although as both a Democrat and someone who writes jokes, I am glad they're keeping their day jobs."
Representative Ralph Hall (R-Tex.)
Congress's eldest member, 88-year-old Hall is also known for being among its funniest. He recentlytold Mitt Romney, "I never met a Mormon I didn't like," particularly the teetotalers in the religion who "give me those airplane bottles of booze when we're on a flight."
Nussbaum: "With age comes wisdom, and also the license to say exactly what you're thinking at any given time. That's the root of Ralph Hall's humor."
Representative Barney Frank (D-Mass.)
The departing congressman has a notoriously quick and acid tongue. The Boston Globe recently compiled the best lines of Frank's 31 years on the Hill. Among them, from 1981: "The Moral Majority supports legislators who oppose abortions but also oppose child nutrition and day care. From their perspective, life begins at conception and ends at birth."
Nussbaum: "Barney Frank is a cross between a witty professor and a stand-up comic who saves his best lines for when he's being heckled. His best lines come when he's pointing out the absurdities of modern politics. He would be Jerry Seinfeld if Seinfeld was less amused by the absurdity and made more irascible by it."
Representative Jeff Flake (R-Ariz.)
He's as well known for his unusually sculpted physique as for his quips, especially on Twitter. Example: "Earthquakes hit Washington, next week hurricanes, after that frogs and locusts, then the worst plague—Congress returns."
Nussbaum: "I try to avoid puns whenever possible, but how fitting is it that Flake's comedy is kind of, well, corny? The real question is what the famously buff Flake does to the open Jonah Hill/Ben Stiller question of whether fit can be funny."
Senator Pat Roberts (R-Kan.)
Was named "Funniest Senator" by Washingtonianmagazine several years in a row.
Nussbaum: "Who would have thought that Kansas would be such a fertile breeding ground for funny senators? But it has produced two of the funniest: Bob Dole and Pat Roberts. His humor is a perfect combination of wry and dry."
Senator Claire McCaskill (D-Mo.)
Her Twitter feed is essential reading for political humor buffs. And she's just as funny in person. At a recent Gridiron Club dinner, the former star prosecutor from Missouri told a story about how her young daughter incorrectly remembered what her mom did for a living, writing in her fourth-grade workbook: "My mom is the hardest-working prostitute in Kansas City." McCaskill capped the joke by saying, "I corrected her: There are some things a prostitute won't do."
Nussbaum: "Her best jokes have obeyed the law of Washington comedy. It's a powerful weapon, but to wield it on others you have to be willing to turn it on yourself first."
Before it's here, it's on the Bloomberg Terminal.
LEARN MORE