Zdeno Chara's Record-Breaking Hockey Stick
Anatomy of Zdeno Chara's record-breaking twig
by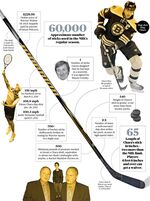 At the NHL All-Star skills contest in January, Boston Bruins defenseman Zdeno Chara blasted a puck at 108.8 mph—the hardest NHL slap shot on record. The 6-foot-9-inch, 255-pound Slovakian did it with the help of a short, self-taught, shaggy-headed Californian he's never met.
Isaac Garcia of athletic gear maker Warrior Sports designed Chara's stick in suburban San Diego, aided by a slap-shot-taking robot, a stick-breaking machine, and a layman's guide to physics.
"It's really about asking the right questions and under­standing what's in their head," says Garcia, 36. Warrior, owned by New Balance Athletic Shoes, is a challenger to dominant stick makers Easton Sports, Bauer Performance Sports, and Reebok-CCM. Chara, 35, once used Warrior, switched to Easton, then returned to Warrior. "I like my stick to be as light as possible and as stiff as possible," he says.
Before it's here, it's on the Bloomberg Terminal.
LEARN MORE